By Dan Gephart, January 3, 2022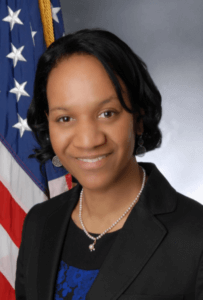 Last year, the EEOC dealt with an unrelenting number of harassment claims, addressed the civil rights crisis exacerbated by the pandemic, took on a role implementing Executive Order 14035, and provided regularly updated guidance on navigating EEO challenges related to COVID-19, including the deluge of religious and disability-based requests for reasonable accommodation of exemptions to the vaccine mandate.
As 2021 drew to a close, we caught up with EEOC Chair Charlotte A. Burrows (pictured at right) to discuss the challenges of last year and look ahead to 2022.
DG: As we head into a new year, what will be your priorities for Federal Sector EEO?
CB: The Federal government is America's largest employer. My top priority for our Federal Sector work is to help Federal agencies become models for the work environment that should exist throughout the United States – one that is fair, equitable, inclusive, and promotes equal employment opportunity for all.
The Commission's Federal Sector priorities will focus on preventing and remedying harassment on all grounds and all bases, addressing retaliation in Federal workplaces, and expanding opportunities for employees with disabilities. EEOC also has a key role to play in implementing Executive Order 14035 – Diversity, Equity, Inclusion and Accessibility (DEIA) in the Federal Workforce. We are partnering with the White House, the Office of Management and Budget, the Office of Personnel Management, and other interagency partners to advance this important and ambitious whole-of-government equity agenda that will take a systematic approach to embedding DEIA in Federal hiring and employment practices.
DG: Can we expect any changes to the Federal EEO process in coming years? 
CB: Yes, the Elijah E. Cummings Federal Antidiscrimination Act of 2020 makes some key changes to the EEO process. Most importantly, it will ensure more transparency around findings of discrimination.
Specifically, the law requires each agency to:
1. Publish a notice of any final agency action or Equal Employment Opportunity Commission (EEOC) appellate decision involving a finding of discrimination or retaliation on the agency's website for at least one year.
2. In those cases involving findings of discrimination, inform the EEOC whether disciplinary action has been proposed and why.
3. And publish data regarding each class action complaint that alleges discrimination, including retaliation.
Also, the Act requires that by (this month), all agencies establish a system to track complaints of discrimination and note adverse actions taken due to findings of discrimination or retaliation in employee personnel records.
In addition, the law provides the EEOC with enhanced tools to promote a discrimination-free workplace by allowing the EEOC to refer instances where federal agencies did not take appropriate disciplinary action in response to a finding of discrimination to the Office of Special Counsel. The Office of Special Counsel will review these referrals for purposes of seeking disciplinary action.
DG: Last spring, you spoke at a hearing about the civil rights crisis exacerbated by the pandemic.
CB: It's been clear for some time now that the pandemic is not only a public health and economic crisis, but truly a civil rights crisis. While every single one of us has experienced challenges during this pandemic, it's important to recognize that the pandemic hasn't impacted everyone in the same way. The pandemic's health and economic fallout has disproportionately impacted people of color, women, older workers, immigrant and migrant workers, people with disabilities, and other vulnerable workers. And that impact has serious implications in the workplace.
The transcript of the public hearing and the witness testimony is available on the EEOC's website and provides an excellent resource for agency leadership, human resource professionals, and EEO managers who are grappling with these issues.
DG: What should those in the Federal EEO arena be doing to address this crisis?
CB: Agency managers should review their policies to determine whether they are having an adverse impact on particular categories of workers and be mindful of overlapping and intersectional effects.
This is particularly important as Federal agencies plan their reentry to the physical workplace after expanded telework and remote work during the pandemic. EEOC has a wealth of resources to assist agencies and Federal workers with understanding the application of the EEO laws in the unique and difficult context of this pandemic. Agencies can find the latest information on this topic and answers to dozens of frequently asked questions in our COVID-19 technical assistance document, What You Should Know About COVID-19.
DG: Should agency practitioners approach requests for vaccination exemptions as they would any other accommodation request?
CB: Absolutely. Although the context of a global pandemic is certainly novel, the legal principles that apply have not changed. Title VII and the Rehabilitation Act require agencies to provide reasonable accommodations for employees who, because of a disability or a sincerely held religious belief, practice, or observance, do not get vaccinated against COVID-19, unless providing an accommodation would pose an undue hardship on the operation of the agency. The undue hardship analysis depends on whether the accommodation is for a disability (including pregnancy-related conditions that constitute a disability) or for religion.
Agency practitioners should review our What You Should Know About COVID-19 publication for practical guidance on how to handle requests for disability and religious accommodations to vaccine requirements. See (Section K – Vaccinations – Overview, ADA, Title VII, and GINA) (Section L – Vaccinations – Title VII and Religious Objections to COVID-19 Vaccine Mandates).
Each agency will need to ensure that it has procedures in place to accept, evaluate, and process requests for religious and disability accommodations. EEOC will continue to assist agencies in navigating emerging issues. EEOC has also made available our agency's own internal religious accommodation request form as a resource for public and private sector employers.
DG: Speaking of reasonable accommodation, will the EEOC be releasing any guidance on "long COVID?"
CB: The EEOC recognizes that "long COVID" may be a disability under the Americans with Disabilities Act (ADA) and Section 501 of the Rehabilitation Act in certain circumstances. The EEOC agrees with the analysis of "long COVID" by the Departments of Health and Human Services and Justice in their "Guidance on 'Long COVID' as a Disability Under the ADA, Section 504, and Section 1557." EEOC technical assistance about COVID-19 and ADA "disability" in the employment context will be released in the near future.
[Editor's note: Shortly after our discussion with Chair Burrows, the EEOC released updated guidance on when COVID may rise to the level of a disability in Section K of the What You Should Know About COVID-19 guidance.]
DG: It's been a few years since the #MeToo movement caught national attention. It was expected that there would be an increase in harassment and hostile work environment complaints. Were there? And has that trend continued in the last year or two?
CB: The year after the #MeToo movement went viral, the EEOC saw a significant rise in the number of sex-based harassment charges, including sexual harassment charges, filed with the Commission. While the number of charges alleging sex-based or sexual harassment has declined since the post-#MeToo high of 13,055 charges in fiscal year 2018, the percentage of EEOC's charge inventory that includes a claim of sex-based and/or sexual harassment has remained elevated — comprising over 17% of charges filed with the EEOC in every year since 2018. The high-profile dismissals of CEOs and senior managers after the #MeToo movement that gained international attention may have prompted more survivors of harassment to believe that filing a charge could make a difference.
Over the past few years, approximately one third of all charges filed with the Commission against private sector and state and local government employers annually alleged harassment on at least one unlawful basis, i.e., race, national origin, religion, color, disability, age, or genetic information, in addition to sex (including pregnancy, sexual orientation, and gender identity). Moreover, the percentage of complaints filed by Federal employees alleging harassment on any basis has consistently been higher than the percentage of charges filed against private and state and local government employers.
Anecdotal evidence and news reports suggest that harassment is pervasive in all types of work settings. The Report of the Co-Chairs of EEOC's Select Task Force on the Study of Harassment in the Workplace found that up to 85% of women report having experienced sexual harassment in the workplace. It is important to remember that a lot of workplace harassment goes unreported for a number of reasons, including because they fear disbelief or inaction of/on their claim, blame, or social or professional retaliation. Therefore, the number of EEOC charges is likely to be only the "tip of the iceberg," because many people fear retaliation or are unsure of their rights in the workplace.
It's clear that workplace harassment remains a significant problem in all sectors. This is not a problem that can be remedied quickly, and we must all work together to reduce harassment and create safe, respectful workplaces.
DG: Federal supervisors have told us that when trying to hold employees accountable for poor performance or misconduct, the employee will cite a hostile work environment. What advice would you give supervisors or their advisors in this situation?
CB: As an initial matter, it is not harassing conduct for a supervisor to tell an employee he or she is not performing adequately. That said, managers should continually assess how they interact with employees and ensure that accountability for poor performance or misconduct is being handled fairly. Supervisors should also document instances of poor performance or misconduct and notify employees when there is a performance or conduct issue. It's important to remember, however, employees who have similar work performance may not be treated differently because of a protected characteristic. We have seen many studies showing that certain populations receive more severe punishment for similar conduct. Agencies should examine whether, in addressing poor performance or misconduct, a manager issues harsher punishment for performance or conduct issues to a particular group. If so, there could be bias or discrimination. This is an area we expect Federal supervisors to pay close attention to and to modify practices where inequity appears. If there is no indication of harsher treatment, then managers should provide timely and specific feedback when an employee is not meeting performance expectations and be consistent with the objective practices for discipline for the conduct or performance.
DG: Where do agencies need to improve most in the EEO process?
CB: Managers should be focused on preventing retaliation and harassment and Federal agencies should ensure that EEO programs have the independence, resources and leadership support needed to effectively manage their programs. In addition, agencies need to improve on the timeliness of their final agency decisions. Agencies also need to focus on improving accessibility to technology for members of its workforce.
I wrapped up the interview by asking Chair Burrows: If there was one message you could make sure every Federal manager would heed, what would it be?
"Equal employment opportunity strengthens your organization by unlocking the full talents of the workforce, improving employee morale, and reducing financial burdens on the federal government," Burrows said. "You have a tremendous opportunity to make a difference in creating a model workplace – seize that opportunity and think of the EEOC as a partner in trying to help you achieve that goal." Gephart@FELTG.com
[Editor's note: Join FELTG Instructor Katherine Atkinson for the 75-minute webinar Stop the Spread of COVID-related Retaliation in the Federal Workplace on January 19 and Managing COVID-related EEO Challenges in the Federal Workplace, a half-day virtual training, on February 8.]