Hey FELTG Nation! Here's what FELTG is planning to do for training in the summer 2020, as adjusted for COVID-19: FELTG is Going Virtual – for the Summer, Anyway
See below for important COVID-19 resources.
---
Register for these COVID-19 specific virtual trainings:
---
Below is a link where you can view FELTG's webinar COVID-19 Guidance for the Federal Workplace: Medical Inquiries, Leave, and More, presented March 25, 2020. Download supplemental materials here.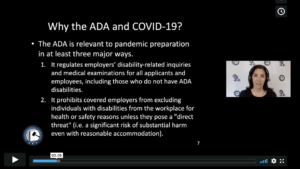 https://vimeo.com/400707671/0717069d10
---
Free FELTG news articles related to COVID-19:
Failure to Follow Instructions: A Charge That Seems Particularly Fit for 2020
The Good News: You Can Still Boost Employee Morale Virtually
Three Things to Consider as You Prepare for Employees' Return to the Workplace
Ask FELTG Answers your Questions About COVID-19
Due Process Challenges in a COVID-19 World
Managing the Workplace During the Coronavirus Pandemic
Disciplining an Employee Who Shows Up at Work Sick in Today's World
How Do You Address Performance Failures During Emergency Telework?
7 Tips for Coping With the Stress of a COVID-19 World
Flatten the Curve on Virus-related Workplace Harassment
Tips from the Other Side: Practicing Employment Law Virtually
---
Other COVID-19 Resources:
OPM Guidance on Emergency Paid Sick Leave
EEOC's What You Should Know About COVID-19 and the ADA, the Rehabilitation Act, and Other EEO Laws
FlexJobs tips on working from home
---
More Ways to Access FELTG Training During COVID-19
These are interesting times we're living in. For those of us fortunate enough to still be working, we are trying to figure out how to adjust to our new work-from-home environments, plus handle our children being home from school, take trips to the grocery store when it's not crowded, and keep our loved ones safe. On top of that, there's ongoing work to perform, employees to supervise, cases to manage, and training requirements to meet.
Lately at FELTG we've been getting a lot of questions about how to access webinars from home, now that many federal employees are teleworking. Because of the continued telework situation caused by COVID-19, FELTG is changing its webinar registration options to better suit the current climate of federal employees working from different locations.
If you haven't yet signed up for the below FELTG webinars, event registration forms will now have options to purchase access based on the number of connections needed, as opposed to the usual main site registration plus price per teleworker. You'll see all relevant information in the event descriptions and registration forms.
These are the upcoming webinars we're talking about:
April 16: Due Process Violations: How One Mistake Could Cost You the Case
May 7: What Do You Do When Contractors File EEO Complaints?
May 14: Handling Law Enforcement Officer Discipline
May 21: Understanding and Managing Federal Employees with Behavioral Health Issues
June 4: When Good Investigations Go Bad: Keeping Integrity in the EEO Process
In addition, FELTG is offering several open enrollment virtual training events in the coming weeks. These classes are set up for individual registrations, and attendees can participate from their home or office. Group discounts are also available.
April 21-23: Emerging Issues in Federal Employment Law
April 29-30: UnCivil Servant: Holding Employees Accountable for Performance and Conduct
May 18-20: Conducting Effective Harassment Investigations
May 27-28: Defending Against Discrimination Complaints: The Supervisor's Role in EEO
We're doing our best to help you during this challenging time. Let us know if there's anything else we can do. Take care and be safe.
---
FELTG Training Resources during COVID-19: