See below for important COVID-19 resources.
---
Register for these COVID-19 specific virtual trainings:
Emerging Issues Week: The Federal Workplace's Most Challenging Situations, July 20-24 (9am – 4pm eastern)
Special Event

–

Federal Workplace 2020: Accountability, Challenges, and Trends

, July 27-31, multiple sessions
---
Below is a link where you can view FELTG's webinar COVID-19 Guidance for the Federal Workplace: Medical Inquiries, Leave, and More, presented March 25, 2020. Download supplemental materials here.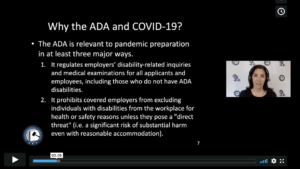 https://vimeo.com/400707671/0717069d10
---
Free FELTG news articles related to COVID-19:
When Cleaning Desks and Wearing Masks is Required: Life With COVID-19
Tips From the Other Side: How Long is Too Long to Provide Accommodations … in the Time of COVID?
The Employee Who Refuses to Report to Work
Failure to Follow Instructions: A Charge That Seems Particularly Fit for 2020
The Good News: You Can Still Boost Employee Morale Virtually
Three Things to Consider as You Prepare for Employees' Return to the Workplace
Ask FELTG Answers your Questions About COVID-19
Due Process Challenges in a COVID-19 World
Managing the Workplace During the Coronavirus Pandemic
Disciplining an Employee Who Shows Up at Work Sick in Today's World
How Do You Address Performance Failures During Emergency Telework?
7 Tips for Coping With the Stress of a COVID-19 World
Flatten the Curve on Virus-related Workplace Harassment
Tips from the Other Side: Practicing Employment Law Virtually
---
Other COVID-19 Resources:
OPM Guidance on Emergency Paid Sick Leave
EEOC's What You Should Know About COVID-19 and the ADA, the Rehabilitation Act, and Other EEO Laws
FlexJobs tips on working from home
---
FELTG Training Resources during COVID-19: