Training Courses for Federal Employees

The benefits of an informed workforce are numerous – increased employee engagement, improved productivity, decreased employee turnover, and a safer workplace. That's why FELTG training is not limited to federal supervisors and advisors. These courses combine FELTG's expertise on federal employment law with practical and usable guidance for employees that will lead to better results for the agency. It's a win-win-win for all – the agency, the employee, and the taxpayer.
If you want more information on a course, or if you're looking for employee training on a topic not listed below, contact us.
---
EM-1: The Civil Civil Servant: Protections, Performance, and Conduct (1/2 – 1 day)
This class provides attendees with a full understanding of their rights and responsibilities as federal employees. Employees will learn about the merit system principles, EEO, whistleblower, and retaliation protections, as well as what will happen if their performance becomes an issue. The course will also educate employees on the various elements of disciplines and numerous other topics, including personal liability, crimes, and administrative sanctions.
Consider adding Civil Civil Servant to your onboarding program. Civil Civil Servant meets all the requirements for the mandatory No FEAR Act training for new employees.
 You'll find a more in-depth description of the training here.
Course Topics: An explanation of merit system principles, including mandatory No FEAR Act material; employee rights and responsibilities when engaging in the EEO process; whistleblower retaliation protections; performance and conduct legal rights and requirements; rights to representation; union considerations.
---
EM-2: Preventing and Correcting Sexual Harassment in the Workplace (1/2-1 day)
The #MeToo movement has had a significant impact on the American workplace. A well-publicized EEOC report suggested that some responsibility for reporting and understanding harassment belongs to bystanders. This course will provide employees a basic grasp of workplace harassment law, and most importantly, what they should do when they are either a victim of or witness to harassment.
Course Topics: Definition of sexual harassment; circumstances that constitute harassment; roles in harassment; tangible employment actions; unwelcome conduct; the severe or pervasive standard; hostile work environment harassment; same-sex harassment; agency liability; employee responsibilities; strategies for prevention.
---
EM-3: Understanding Reasonable Accommodation (1/2 – 1 day)
This half- or full-day course will provide your employees with answers to their most perplexing questions about reasonable accommodation. They'll learn in understandable terms what legal concepts like interactive process and qualified individual mean, and leave with a firm grasp on the how and why of agency reasonable accommodation decisions.
Course Topics: The law under the Rehabilitation Act and the Americans with Disabilities Act & Amendments Act; regulations; the reasonable accommodation process; the medical documentation employees are required to provide; the medical information employers cannot ask for; defining an individual with a disability; major life activities and substantial limitations; essential job functions; the interactive process; when employers can say "no" to an accommodation; confidentiality of medical information.
---
EM-4: Mindset Matters: Making the Transition from Individual Contributor to Supervisor (1 day)
Receiving a promotion is a career highlight. However, if that promotion means you're now supervising your former co-workers, then it also means you're about to navigate the trickiest part of your career. This one-day course is perfect those who have been promoted, or hope to be promoted at some point, and will cover the following competencies — leading people, resilience, decisiveness, flexibility.
Course Topics: Assessing existing managerial knowledge, skills, behaviors, and confidence; understanding the art and science behind managing others; differentiating between a general mindset, positional mindset, and job-specific mindset; understanding the traits that directly correlate with the ability to accurately assess performance; create a personal development strategy to transition to supervision. 
---
EM-5: The High-Performing Team (1 day)
Does your agency rely on teams to get mission-critical work accomplished? Then invest in this full-day training that helps teams leverage individual personality types and strengths to promote accurate communication, diminish unhealthy conflict, and increase individual and collective performance. The High-Performing Team, led by nationally recognized leadership scholar and trainer Dr. Anthony J. Marchese, includes assessments, relevant articles and videos, real-life simulations, and practical suggestions for ongoing sustainability.
Course topics:  The neuroscience behind peak performance; the composition of teams of excellence; strategies to understand and negotiate individual difference; align team goals with those of the agency.
---
EM-6: Handling Behavioral Health Issues and Threats of Violence in the Federal Workplace (1-2 days)
What are the warning signs that an employee may become violent? What's the best way to intervene when you think an employee is suicidal? If you're a bystander during a behavioral or psychiatric crisis, what should you do – or not do – to keep yourself and others safe? Licensed Clinical Social Worker Shana Palmieri will share practical and clinical guidance on how to avoid, manage and prepare for workplace crises — and properly deal with them should they occur.
Course Topics: Types of mental disabilities and how they may exhibit in the workplace; dealing with suicidal employees; dos and don'ts when working with employees who have behavioral health issues; myths and facts about targeted violence in the workplace; individual characteristics that put an employee at higher risk of committing an act of violence; steps to take if someone becomes violent in the workplace.
---
Jul
12
Tue
Developing and Defending Discipline: Holding Federal Employees Accountable – Washington, DC

@ International Student House
Download Individual Registration Form
Note: In the event COVID-19 makes it unsafe to hold this class in person, the program will be held virtually. Registration MUST be received by July 5 in order to guarantee a seat.
Event Description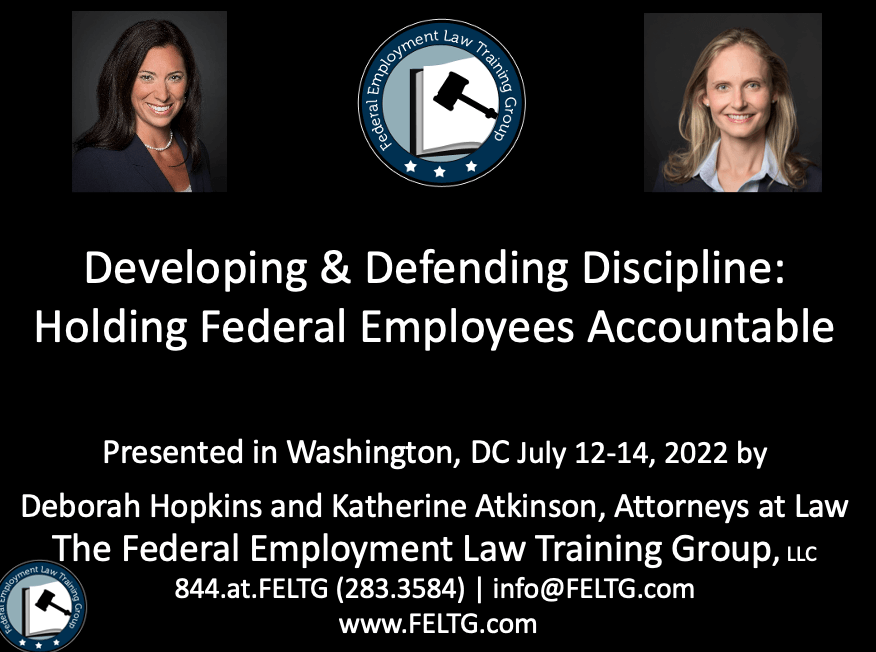 The pandemic has become endemic, and many employees are returning physically to the office as a new form of hybrid workplace takes root in many agencies. It's as imperative as ever that your employees are doing the work they are assigned to do and following all workplace rules, regardless of where they are physically located. Unfortunately, Federal supervisors continue to struggle when it comes to holding employees accountable for performance and conduct in the new hybrid environment.
It doesn't have to be that way.
FELTG is here to make federal supervisors' and advisers' lives easier by clarifying common misconceptions. For example: Many supervisors believe that an employee's protected activity (EEO complaints, whistleblower disclosures, or union activity) precludes the supervisor from initiating a suspension or removal. (Spoiler alert: This is not true).
More importantly, FELTG's Developing & Defending Discipline: Holding Federal Employees Accountable teaches supervisors how to take defensible misconduct actions quickly and fairly – actions that withstand scrutiny on appeal by the MSPB, EEOC, or in grievance arbitration. Plus, if you have an under-performing employee working for you now, we will show you the steps to take to give the employee an opportunity to demonstrate acceptable performance, and how to determine whether the employee is successful or should be removed.
In addition, we'll discuss how you can defend against allegations of discrimination and hostile work environment claims, and the role of the supervisor and adviser throughout the EEO process.
This training will include the most up-to-date guidance based on President Biden's Federal workplace Executive Orders and OPM regulations, as well as all of the lessons learned over the pandemic, plus practical tips from new MSPB case law.
And … this training will mark the return of FELTG to in-person open enrollment training.
Join us for this three-day seminar and come away with the tools you need to hold your employees accountable, and defend every action you take.
The program runs 8:30 – 4:00 each day and meets OPM's mandatory training requirements for federal supervisors found at 5 CFR 412.202(b).  CDC and local COVID-19 safety protocols will be observed.
Enrollment is limited to ensure a little extra space per attendee, so register soon. 
Instructors
Deborah Hopkins, Katherine Atkinson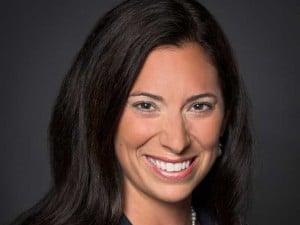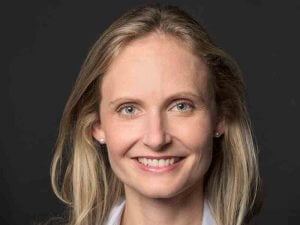 Download Individual Registration Form
Tuesday, July 12, 2022
Session 1: Accountability for Conduct and Performance, Part I
Presented by Deborah Hopkins, Attorney at Law, FELTG President
Course Description: This program begins with a discussion on the foundations of accountability and supervisory authority in the federal government. After learning to identify the differences between performance and conduct issues, the seminar will shift the focus to discipline and misconduct theory and practice. From emphasizing the five elements of misconduct, to explaining how an agency can defend its penalty and provide the employee with due process, to a discussion on discipline procedures and appeals, the attendee will receive a thorough education on properly – and legally – handling employee misconduct issues in the federal workplace.
Learning Objectives
Understand the differences between employee performance and misconduct issues
Identify the five elements that must be present in every discipline case
Recognize the supervisor's and advisor's roles in disciplinary procedures and appeals
Wednesday, July 13, 2022
Session 2: Accountability for Conduct and Performance, Part II
Presented by Deborah Hopkins, Attorney at Law, FELTG President
Course Description: This session begins with a focus on one of the most misunderstood areas of accountability: poor performance. The conversation includes the requirements to document and justify the decision to put an employee on a performance demonstration period, implementing a performance demonstration period, initiating and completing a performance-based action, and determining the appropriate outcome after the employee has been given an opportunity to demonstrate acceptable performance. From there, the discussion turns to some tricky supervisory scenarios that become less intimidating after explanation: dealing with attendance issues, properly handling the absent employee, medical removals and dealing with telework issues.
Learning Objectives
Understand the legally-required procedures to hold an employee accountable for poor performance
Identify and implement the procedures to deal with leave abuse
Learn how to handle performance and conduct challenges for employees that telework
Thursday, July 14, 2022
Session 3: Defending Against Discrimination Complaints: The Supervisor's Role in EEO
Presented by Katherine Atkinson, Attorney at Law, FELTG Instructor
Course Description: One of the most intimidating experiences for a federal supervisor is being named in an EEO complaint. Yet, if you are a supervisor for any length of time, there's a good chance it will happen. This session helps to clarify the federal EEO process so supervisors understand how defend against allegations of discrimination. After an explanation of the protected EEO categories, we'll cover what to do – and what not to do – if you're a Responding Management Official in a complaint, and what happens if you're called as an EEO witness. From there, the program will cover the theories of discrimination, and will provide you with the tools you need to prove your workplace actions were legitimate and non-discriminatory. You'll sleep better at night after attending this session!
Learning Objectives
Identify the theories of discrimination in the federal workplace
Recognize the situations where a employees need reasonable accommodation – and your role in the process
Understand how to successfully defend against allegations of harassment and discrimination
---
Pricing
Early Bird Tuition (register by June 28):
3 days = $1495
2 days = $1020
1 day = $560
Standard Tuition (register June 29-July 14):
3 days = $1595
2 days = $1120
1 day = $660
Seminar registration includes a copy of the textbook UnCivil Servant: Holding Employees Accountable for Performance and Conduct, 5th ed., by Wiley and Hopkins.
Metro, Parking, Directions
Metro: The International Student House (1825 R Street NW) is located in convenient proximity to the Red Line. Exit Metro at the Dupont Circle station and proceed to the Q Street/North exit. Head north (you will come off the escalator facing north; if you use the elevator take a left after exiting) on Connecticut Avenue to R Street NW (approximately one block). Turn right onto R Street NW. Cross 19th Street NW and the International Student House will be on the left side of the street approximately halfway down the block. If you reach the Bikeshare dock, you've gone too far. Approximate travel time on foot, by wheelchair or scooter: 7-10 minutes.
Parking: Street parking is metered and is limited to two hours, unless you have a Washington, DC, Zone 2 parking pass. The closest parking garage is at 11 Dupont Circle, approximately two blocks from the International Student House (1825 R Street NW). Approximate travel time on foot, by wheelchair or scooter: 5 -7 minutes.
From the Lyle Hotel: After exiting the Lyle Hotel, turn left. At the first intersection, R Street NW, turn right. Proceed approximately one block. The International Student House (1825 R Street NW) will be on your right, just past the Bikeshare dock. Approximate travel time on foot, by wheelchair or scooter: 4-6 minutes.
Jul
21
Thu
Webinar – Reasonable Accommodation Framework: Disability Accommodation Overview and Analysis
Jul 21 @ 1:00 pm – 2:00 pm
Instructor
Course Description

 1
FELTG kicks off its five-part webinar series Reasonable Accommodation in the Federal Workplace with an overview of the the current state of disability law and how the ADA, ADAAA, and Rehabilitation Act apply to federal employees with disabilities. Before you can appropriately manage the complex reasonable accommodation requests you're likely to receive in the next few months, you need a thorough understanding of the basics. Attendees will learn about:
Making disability determinations
What "qualified individual" actually means
Reasonable accommodation requests
The interactive process
Denials of reasonable accommodation
Reassignment and Medical Inability to Perform removals
Whether you're an attorney, disability program manager, EEO or HR Specialist or a supervisor, you'll want to be sure to attend this session.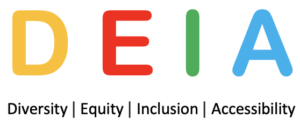 This program meets the President's mandate to provide training on diversity, equity, inclusion and accessibility in the Federal workplace.
Price
Early Bird Tuition: $250 per site, per session (payment made by July 11).
Standard Tuition: $280 per site, per session (payment made July 12 or later).
Register for all five webinars in the series by July 11 and pay only $1195!
Teleworkers may be added to a main site registration for $50 per teleworker, per webinar, on a space-available basis.
Cancellation and No-show Policy for Registered Participants: Cancellations made after the cancel date on the registration form will not be refunded or given credit toward future courses. Pre-paid training using the "Pay Now" option will not be refunded or given credit toward future courses. No-shows will not be refunded or given credit toward future course.
Subscribe to our monthly newsletter
---