When:
January 24, 2022 – January 27, 2022
all-day
America/New York Timezone
2022-01-24T00:00:00-05:00
2022-01-28T00:00:00-05:00
Download Individual Registration Form
Event Description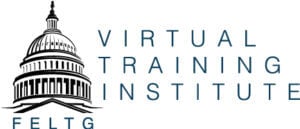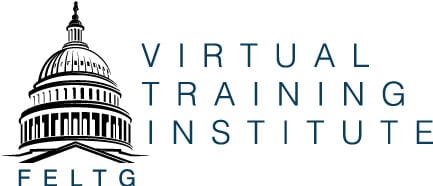 The world of Federal EEO is constantly changing. With the expected deluge of complaints related to vaccine exemption denials, it's also expected to get much more challenging in the next few months. Agencies will be onboarding new EEO counselors, and need to make sure they're prepared for the unique challenges 2022 is sure to bring. FELTG has the solution — the most engaging, up-to-date, and comprehensive 32-hour EEO Counselor initial training available.
Over the course of four 8-hour days, FELTG's experienced instructors will steer you through a carefully and meticulously crafted agenda that explains EEO law in easy-to-understand terms and helps you develop the skills necessary to be an effective EEO professional, and provides the mandatory 32-hour initial training for new counselors as required by EEOC.
Topics include an overview of the EEO process, the counselor's responsibilities, the applicable statutes, theories of discrimination, remedies and more. Plus, we'll focus on emerging issues related to COVID-19 and vaccine exemption requests, provide updated on LGBTQ+ discrimination, and take attendees through a thorough discussion of reasonable accommodation.
And there's more.
Are you a veteran counselor looking for your 8-hour refresher? Attend one of the final three days of training to earn your refresher hours. Plus, if you work in another realm of EEO, you're welcome to join us for the very latest guidance on all these timely topics.
This is an interactive class. You will not be asked to share your screen, but there will be many opportunities to participate, and you should be prepared to share and discuss.
You can't afford to trust this required initial training to whatever is available at the last minute. Register by January 11 for the Early Bird rate.
Daily Agenda
Monday, January 24
EEO Counselor Training, Part I — Introduction and Role of the Counselor: Introduction to Counseling; the EEO process; timelines; requirements; why counseling first; EEO counselor approach; purpose of the EEO counselor; what makes a good EEO counselor; an intro to alternative dispute resolution; ADR in EEO counseling; the counselor's role when ADR is elected.
Tuesday, January 25
EEO Counselor Training, Part II — Theories of Discrimination: EEOC jurisdiction; discrimination base on race, color, national origin, reprisal, and disability; intentional discrimination; hostile work environment; sexual harassment; LGBTQ status; MD-110; COVID-19 related EEO topics; vaccine mandates.
 8 per day
Wednesday, January 26
EEO Counselor Training, Part III — Interview Skills: Introduction to interview skills; interviewing the counselee; interviewing the RMO; meeting with counselee after RMO; interviewing difficult personality types; what happens if a contractor wants to file an EEO complaint.
 8 per day
Thursday, January 27
EEO Counselor Training, Part IV — Avoiding Mistakes; Writing the Report: Mistakes to avoid in the counseling process; organizing the report; issue spotting; knowing your audience; writing the narrative; writing styles; plain language writing.
 8 per day
Join FELTG for this training, from wherever you are working — agency office or home. The program will be presented live, and you'll have time to ask questions and get answers in real time. This program runs from 9 am – 5 pm eastern each day.
Instructors
Robert Woods, Ricky Rowe, Katherine Atkinson, Ann Boehm
Price
Early Bird Tuition (register by January 11):                                                                                                                                              One Day = $575  |  Two Days = $1100  |  Three Days = $1575 | Four Days = $1995
Standard Tuition (register January 12-24):                                                                                                                                              One Day = $675  |  Two Days = $1200  |  Three Days = $1675 | Four Days = $2095
Rates per registrant. No split registrations permitted.
Want to register a group? Group discounts are available through January 11. Contact FELTG.
Event FAQs
Can I attend Virtual Training from my government computer?

FELTG uses Zoom to broadcast this Virtual Training Institute event. Many government computers and systems allow Zoom access. If for some reason your firewall will not allow access, you're welcome to use your personal email address to register, and to attend the sessions from your personal device.

Can I earn CLE credits for this class?

CLE applications are the responsibility of each attendee; FELTG does not apply for the credits on behalf of attendees.  If you are seeking CLE credit, attendees may use the materials provided by FELTG in submission to your state bar. Attendees may also request a certificate of completion which will contain the number of training hours attended.

Can I share my access link with co-workers?

No. Registration for this event is per individual, and access links may not be shared. Each link may only be used by one person.

Can I register a teleworker?

This event is individual registration, so the cost is the same whether the person is teleworking or in an agency facility.

How do I receive a group rate discount?

Group rates are available for agencies registering 10 or more attendees for the full event. Group discounts are available through January 11.
Cancellation and No-show Policy for Registered Participants: Cancellations made after the cancel date on the registration form will not be refunded or given credit toward future courses. Pre-paid training using the "Pay Now" option will not be refunded or given credit toward future courses. No-shows will not be refunded or given credit toward future courses.