When:
September 13, 2021 – September 17, 2021
all-day
America/New York Timezone
2021-09-13T00:00:00-04:00
2021-09-18T00:00:00-04:00
Download Individual Registration Form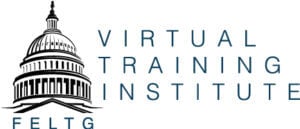 The civil service world is changing and it's important to be aware of the new laws and executive orders that apply to you. MSPB Law Week covers the legal requirements and best practices for disciplinary charges and penalties, plus understanding the law and strategy in handling performance cases and defending against whistleblower reprisal complaints. Join top MSPB practitioners and topic authors, and learn the law, strategies, and techniques from their many years of combined experience.
While the near future of the Merit Systems Protection Board remains uncertain, FELTG's instructors are staying on top of the situation and will provide attendees with the information they need to know.
The program runs 9:00 – 4:00 each day.
Instructors
Deborah Hopkins, Ann Boehm, Robert Woods
Daily Agenda
Monday
Adverse Actions: Statutory basis including the Civil Service Reform Act, the Department of Veterans Affairs Accountability and Whistleblower Protection Act, the five elements of every disciplinary case and the burdens of proof, the fundamentals of penalty selection and defense, obtaining testimony to protect the penalty selection should one or more charges fail, types of evidence necessary to support a penalty selection, the MSPB's power to mitigate a penalty and recent trends in the Board's use of that authority, educating uninformed arbitrators, using alternatives to discipline.
Tuesday
Charges: Types of charges, parts of a charge, how charges are interpreted, the role of the proposing and deciding officials, capitalizing on the general charge, allowing the inclusion of lesser-included offenses, charging in the alternative, attractive options to difficult charges and common charging mistakes, proving the difficult "intent" charge element, a step by step approach to charge drafting.
Wednesday
Penalties: MSPB and Federal Circuit lead cases in penalty determination, getting "intent" penalties off of "non-intent" charges, proving harsh penalties off of vanilla charges, charging down and proving up, how the maximum penalty is established, an update of recent Board and court decisions: what's really new and what's old wine in new bottles, placing the emphasis on notice, the Board's lack of a quorum, penalty mitigation changes.
Thursday
Unacceptable Performance: Performance actions in perspective, drafting a defensible performance standard, implementing PIP's, defeating the PIP rollercoaster, accommodating disability-related poor performance, converting an unacceptable performance problem into a Part 752 disciplinary action, termination based on failing a performance quiz.
Friday
Defending Against Whistleblower Reprisal Claims and other Affirmative Defenses: Whistleblower claims: protected disclosures and whistleblower reprisal, claims of harmful error, reprisal for union activity, excessive penalty findings.
Pricing
Seminar registration includes a printed copy of the materials and a copy of the textbook UnCivil Servant: Holding Employees Accountable for Performance and Conduct, 5th ed., by Wiley and Hopkins. In order to receive materials by the training date, please register by August 27 and provide a shipping address. Registrations received after August 27 will also receive printed materials, but materials are not guaranteed to arrive by the training date.
Most people attend the full training week, but you may opt out of any days you don't plan to attend.
Early Bird Tuition (register by August 27):
5 days = $2415
4 days = $2035
3 days = $1625
2 days = $1145
1 day = $595
Standard Tuition (register August 28-September 17):
5 days = $2495
4 days = $2135
3 days = $1725
2 days = $1245
1 day = $695
Event FAQs
Can I attend Virtual Training from my government computer?

FELTG uses Webex to broadcast this Virtual Training Institute event. Many government computers and systems allow Webex access. If for some reason your firewall will not allow access, you're welcome to use your personal email address to register, and to attend the sessions from your personal device.

Can I earn CLE credits for this class?

This program has been submitted for CLE credits in Virginia and we anticipate 27 hours will be awarded. CLE applications are the responsibility of each attendee; FELTG does not apply for the credits on behalf of attendees.  If you are seeking CLE credit, attendees may use the materials provided by FELTG in submission to your state bar. Attendees may also request a certificate of completion which will contain the number of training hours attended. This program is also pre-approved for 26.5 HRCI general recertification hours.

Can I share my access link with co-workers?

No. Registration for this event is per individual, and access links may not be shared. Each link may only be used by one person.

Can I register a teleworker?

This event is individual registration, so the cost is the same whether the person is teleworking or in an agency facility.

How do I receive a group rate discount?

Group rates are available for agencies registering 10 or more individuals for the full training event. Group discounts are available through August 27.
Cancellation and No-show Policy for Registered Participants: Cancellations made after the cancel date on the registration form will not be refunded or given credit toward future courses. Pre-paid training using the "Pay Now" option will not be refunded or given credit toward future courses. No-shows will not be refunded or given credit toward future courses.