When:
July 26, 2021 – July 30, 2021
all-day
America/New York Timezone
2021-07-26T00:00:00-04:00
2021-07-31T00:00:00-04:00
Download Individual Registration Form
Course Description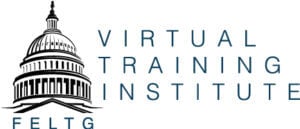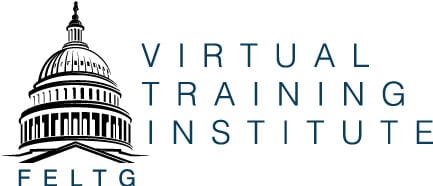 Welcome to the post-pandemic workplace. We've focused our weeklong Managing Federal Employee Accountability program and made it even more timely and useful, specific to challenges your agencies are facing in 2021. If you're a federal supervisor, an adviser in L/ER or legal, or a union representative, you can't afford to miss this program.
This week of half-day programs covers a range of topics including:
Employee accountability for conduct and performance
Managing leave abuse
Handling EEO challenges related to COVID-19
Complaints of discrimination based on race, color, or national origin
Handling Telework requests as employees return to the office
On the fifth and final day of training, attendees will apply all they've learned from the previous four days to handle these challenges in remote work environments.
This open enrollment FELTG Virtual Training Institute program offers opportunities to ask questions of FELTG's experienced instructors, and get answers in real time. Registrants can attend the full week, or select which days they'd like to attend.
This program runs from 12:30 – 4:00 PM ET each day, with a 30-minute break from 2:00 – 2:30 PM ET.
Download Individual Registration Form
Instructors
Deborah Hopkins, Barbara Haga, Katherine Atkinson, Ann Boehm
Daily Agenda:
Monday, July 26
Understanding Misconduct: Disciplinary Charges and Penalties:
Legal foundations of disciplinary actions
The five elements of discipline
Drafting defensible charges and penalties under a new MSPB
Tuesday, July 27
Maximizing Accountability in Performance:
The legislative and regulatory background
Environment, system requirements, elements and standards
Understanding the difference between conduct and performance feedback
Writing effective performance plans, MSPB case law on performance plans
Within-grade increases
Performance demonstration periods, taking action on unacceptable performance
Wednesday, July 28
Handling Employee Leave Issues:
General principles regarding leave
Approval/disapproval of annual leave
New provisions for Emergency Paid Sick Leave for COVID-19 in 2021
Accrual of sick leave, eligibility to use sick leave, uses of leave for family care, notification requirements
Sick leave documentation requirements, discretion in approving sick leave and sick leave abuse, employee eligibility to use FMLA
Requesting FMLA leave, medical certification requirements, substitution of paid leave, Paid Parental Leave
Other leave types – LWOP, Disabled Veteran Leave, Leave Transfer, and AWOL.
Thursday, July 29
EEO and COVID-19 in the Federal Workplace:
Determining whether an employee with COVID-19 or pre-existing respiratory sensitivities should receive a reasonable accommodation
Taking action against pandemic-related harassment and discrimination
Discrimination based on race, color, or national origin
Friday, July 30
The 2021 Telework Challenge:
Holding teleworkers and other remote workers accountable for performance and conduct
Special telework performance and conduct challenges
OPM's telework flexibilities; telework as reasonable accommodation
Agency options when employees refuse to report to the physical workplace
Price
Most people attend the full training week, but you may opt out of any days you don't plan to attend.
Early Bird Tuition (register by July 9):
1 day = $345
2 days = $630
3 days = $910
4 days = $1195
5 days = $1475
Standard Tuition (register July 10-30):
1 day = $395
2 days = $685
3 days = $975
4 days = $1285
5 days = $1550
Event FAQs
Can I attend Virtual Training from my government computer?

FELTG uses Webex for its Virtual Training Institute events. Many government computers and systems allow Webex access. If for some reason your firewall will not allow access, you're welcome to use your personal email address to register, and to attend the sessions from your personal device.

Can I share my access link with co-workers?

No. Registration for this event is per individual, and access links may not be shared. Each link may only be used by one person.

Can I register a teleworker?

This event is individual registration, so the cost is the same whether the person is teleworking or in an agency facility.

How do I receive a group rate discount?

If an agency wishes to register 10 or more attendees for the full event, a group discount will be applied if all registrations are received and paid for together. Group discount deadline is July 9.

Can I earn CLE credits or EEO refresher training for this class?

CLE applications are the responsibility of each attendee; FELTG goes not apply for the credits on behalf of attendees.  If you are seeking CLE credit, attendees may use the materials provided by FELTG in submission to your state bar. Attendees may also request a certificate of completion which will contain the number of training hours attended. Attendees may also request a certificate for EEO refresher hours upon completion of this program.
Cancellation and No-show Policy for Registered Participants: Cancellations made after the cancel date on the registration form will not be refunded or given credit toward future courses. Pre-paid training using the "Pay Now" option will not be refunded or given credit toward future courses. No-shows will not be refunded or given credit toward future courses.