Labor Relations Training Courses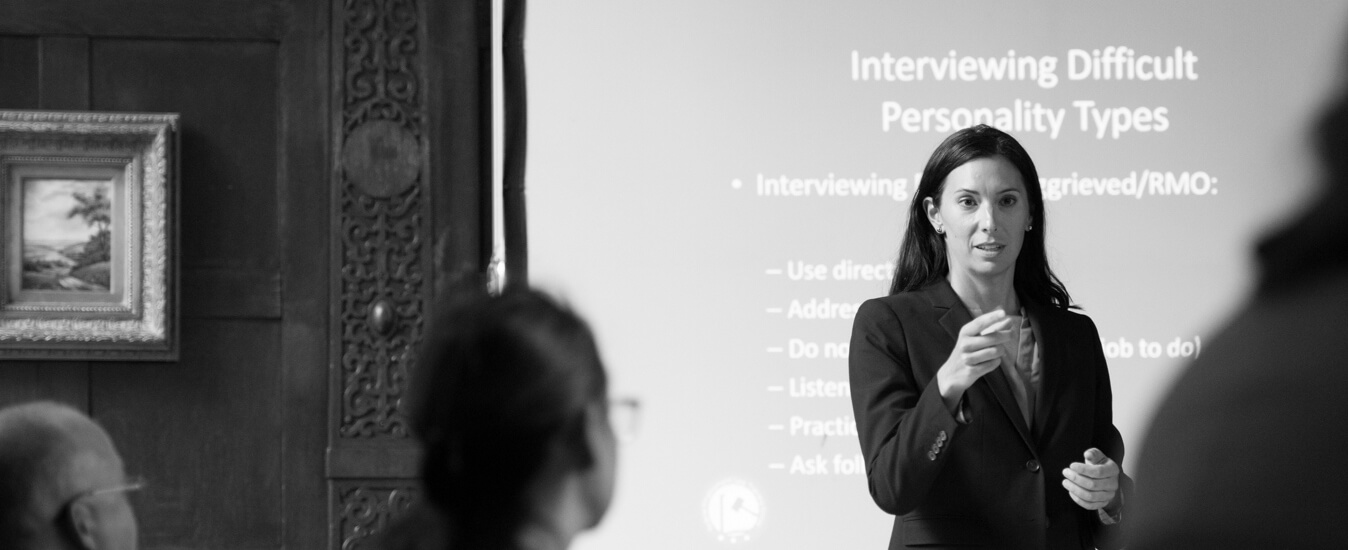 Attorneys, L/ER specialists, union representatives and arbitrators have a lot they need to understand about the current and pending policy changes with permissive bargaining in federal labor unions. FELTG courses to help the practitioner safely – and legally- navigate this complex terrain while providing fundamental understanding and practical application to the daily requirements of those employed in this field.
---
LR-1: Fundamentals of FLRA: Nuts & Bolts (1-2 days)
Course Topics: An overview of the Federal Service Labor-Management Relations Statute; fundamental employee, union, and management rights; Weingarten meetings; a bargaining unit employee's right to be represented by the union in certain meetings.
---
LR-2: Handling Grievances & Arbitration (1 day)
Course Topics: Invoking arbitration under the collective bargaining agreement; the arbitration process; selecting an arbitrator; rules of evidence; how government arbitration is different from private sector arbitration; educating the arbitrator.
---
LR-3: Navigating Negotiability Issues (1 day)
Course Topics: FLRA process and procedures; intersection of grievances, MSPB appeals, and EEO complaints; what subjects must be bargained; what subjects may and may not be bargained; impact and implementation bargaining; bringing the bargaining process to closure.
---
LR-4: Effective Negotiation Techniques & Strategies (1 day)
Course Topics: Management rights; negotiating impact and implementation; difficult bargaining topics; management-union relationships; word choices; choosing your battles.
---
LR-5: Labor Relations Meetings, Official Time & ULPs (1 day)
Course Topics: Agency obligations; Weingarten and Brookhaven meetings; formal discussions; official time – what is covered by law and what is bargained; unfair labor practices (ULP) procedures; common legal missteps; practical strategies.
---
LR-6: Legal Writing Skills for LR Practitioners (1 day)
Course Topics: Legal writing overview; writing a Memorandum of Understanding; pre-ULP writing considerations; drafting arguments under contract interpretation; persuasive legal writing.
Upcoming Labor Relations Training Events
---
Feb
20
Wed
Webinar Series – Too Sick to Work: Absence Due to Illness
Feb 20 @ 1:00 pm – 2:30 pm
Instructor
Course Description
Absence due to illness has changed the landscape in dealing with federal workplace issues.  Problems arise when employees are absent – let alone the huge amounts of leave entitlements tied to family member medical conditions.
Administering sick leave can be complicated, and proper documentation is critical.  The Family & Medical Leave Act adds an additional layer of complexity to these illness-related absences.  When can you require medical examinations? When can you take action on excessive absences?
If you need more information on absence related to illness so you are able to answer those tough questions on sick leave and FMLA – or if you want to ensure that the adverse action case you assemble will withstand the scrutiny of the MSPB – then this webinar series is custom-made for you.
While the near future of the Merit Systems Protection Board remains uncertain, Ms. Haga is  staying on top of the situation and will provide attendees with the most up-to-date information they need to know.
Join instructor Barbara Haga for any or all of the sessions as she guides you through these thorny issues.
Session 1 – Sick Leave, Part I (1/23)

Earning and accumulation
Authorized uses of sick leave
Family care sick leave – documentation and limits
Advance sick leave

Session 2 – Sick Leave, Part II  (2/6)

Notice requirements
Definition of "serious health condition"
Substitution of paid leave for FMLA LWOP
Medical certification – what is required and what needs to be in it
Sick leave abuse
Medical examinations
Taking action on sick leave-related absences

Session 3 – Understanding FMLA (2/20)

Basic entitlement
Notice requirements
FMLA Medical certification requirements
Discipline and FMLA – excessive absence, falsified information, failure to comply with notice requirements, last chance agreements
You'll have the chance to ask your questions, and get them answered in real time, during each of these 90-minute sessions.  Register your site today.
Price
$275 per webinar per site. Register for all three by 1/17 for only $795.
Add a teleworker for only $35 per webinar, in addition to a main site registration, if space permits.
Feb
28
Thu
Webinar — Boosting Employee Morale: 10 Dos and Don'ts for Federal Managers
Feb 28 @ 1:00 pm – 2:00 pm
Instructor
Course Description
A tough year for federal employees? That's an understatement. Even before the shutdown, stagnant pay and slashed benefits led to significant drops in engagement and morale, according to the Best Places to Work survey. The factors that caused this precipitous drop in morale may be beyond your control. But that doesn't mean that you can't do anything to get employees focused back on mission. Join FELTG instructor Ann Boehm for this important webinar where you will learn specific actions you can take to improve morale, such as:
Finding out what employees like about their jobs
Addressing misconduct and performance problems before they impact morale
Rewarding good employees and include those employees in planning
The federal workplace is at a critical juncture. It needs skilled and proactive managers who have the right tools to lead their employees through these difficult times. Learn from Ms. Boehm, who has held numerous leadership roles during her 26-year career as a government attorney.
Price
$225 per site (payment by February 17)
$255 per site (payments made February 18 or later)
Teleworkers may be added to a main site registration for $35 each, on a space-available basis.
Subscribe to our monthly newsletter
---