June 26, 2023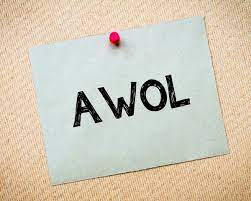 Thanks for the question; it's one we get fairly frequently. Let's look at what the Merit Systems Protection Board (MSPB) says on this matter:
AWOL and Failure to Follow Leave Procedures generally are separate charges with different elements of proof. Valenzuela v. Army, 107 M.S.P.R. 549, 553 (2007).
There are two elements of an AWOL charge:
1. The employee was absent without authorization, and
2. If the employee requested leave, the leave request was properly denied.
Wesley v. USPS, 94 M.S.P.R. 277, ¶ 14 (2003).
To prove Failure to Follow Leave Procedures, the agency must show that the employee failed to request leave for an absence, and that he was clearly on notice of leave-requesting requirements, and the likelihood of discipline for failure to comply. Allen v. USPS, 88 M.S.P.R. 491, ¶ 10 (2001).
If an employee is a no-show at work and did not request leave, there are two separate incidents of misconduct. An agency is "doubly burdened" by an unscheduled absence; once for the loss of the employee's services, and again for the loss of the opportunity to plan for the absence. Yartzoff v. EPA, 38 M.S.P.R. 403 (1988). In this instance, both charges would make sense.
If the employee properly requested leave, and it was denied, and the employee did not report to work anyway, a sole charge of AWOL would make the most sense.
Under some circumstances, the charges of failure to follow leave procedures and AWOL merge: The charges of failure to follow leave-requesting procedures and AWOL must be merged when they do not involve different misconduct or elements of proof; that is, when the charge of AWOL was based solely on the appellant's failure to follow leave-requesting procedures. Westmoreland v. VA, 83 M.S.P.R. 625, ¶ 6 (1999), aff'd, 19 F. App'x 868 (Fed. Cir. 2001), overruled on other grounds as recognized in Pickett v. USDA, 116 M.S.P.R. 439, ¶ 11 (2011).
For a recent case on the matter, check out Doulette v. USPS, NY-0752-17-0060-I-1 (Jun. 5, 2023)(NP), where the agency charged the appellant separately. The Administrative Judge merged the two charges but because the AWOL charge was not based solely on the appellant's failure to follow leave procedures, the Board determined the merger was not appropriate and upheld the separate charges, and ultimately, upheld the removal. Id.
Looking for more advice on leave matters? Attend the upcoming virtual training Mastering Sick Leave and FMLA: A Roadmap for HR Practitioners July 11-13.
Have a question? Ask FELTG.
The information presented here is for informational purposes only and not for the purpose of providing legal advice. Contacting FELTG in any way/format does not create the existence of an attorney-client relationship. If you need legal advice, you should contact an attorney.