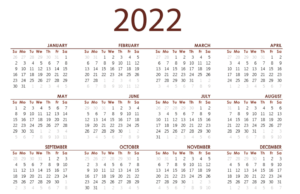 March 8, 2022
Sometimes to understand Federal employment law, you need an old-fashioned print calendar by your side, as these two recent Ask FELTG submissions illustrate.
We know that suspensions must be served as calendar days, not workdays, but how can we ensure that a suspension maximizes the workdays covered? Can we require that a suspension begin on a Monday so that a, say, 6-day suspension covers 5 workdays?
In the decision letter, the Deciding Official should state the specific date(s) the suspension will be effective, so beginning a suspension on a Monday is no problem at all as long as the letter indicates so.
For expert guidance on all things related to discipline, as well as performance and whistleblowing, register for one or more days of FELTG's MSPB Law Week, held virtually March 28 – April 1. Register here.
Meanwhile, another reader asked about holidays while on Paid Parental Leave.
I read your post Ask FELTG: Are holidays counted as hours for Paid Parental Leave? Someone recently advised me that at my agency FMLA only gives us 12 administrative weeks and that they are counted towards holidays. When I returned from my PPL, I lost three days of PPL to holidays during my leave. What is the next step in addressing this? Is there an OPM hotline?
We huddled with FELTG Senior Instructor and FMLA expert Barbara Haga to offer further guidance to our reader.
FMLA (and, thus by extension, PPL) is only charged for days when employees are scheduled to work. Holidays do not count toward the 12-week entitlement if the employee is not scheduled to work on Federal holidays. Here is the regulation:
5 CFR 630.1203(e)
(1) Family and medical leave under this subpart is available to full-time and part-time employees. The entitlement to a total of 12 administrative workweeks of leave in connection with leave granted under paragraph (a) of this section must be converted to hours or days, as provided in paragraphs (e)(2) and (e)(3) of this section. Leave under paragraph (a) allows an employee to be absent during the employee's scheduled tour of duty established for leave charging purposes. Such leave is not applied to days designated as holidays and other nonworkdays when the employee would be excused form duty. [Emphasis added.]
OPM has no role in adjudicating FMLA claims, and as far as we know they don't have a hotline to report such concerns.
If showing this to the HR folks does not resolve the issue, an employee would have the ability to raise this through the relevant grievance procedure. If they are in a bargaining unit, they would file under the negotiated procedure if the CBA allowed it. If not covered by a bargaining unit, then the employee would use whatever administrative grievance process their agency provides.
Meanwhile, mark your calendar now for FELTG's Absence, Leave Abuse & Medical Issues Week June 13-17.
Have a question? Ask FELTG.
The information presented here is for informational purposes only and not for the purpose of providing legal advice. Contacting FELTG in any way/format does not create the existence of an attorney-client relationship. If you need legal advice, you should contact an attorney.