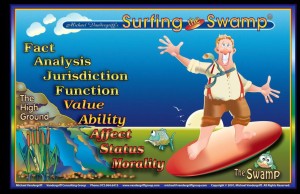 I trained Charlie Manson's psychiatrist.
It was the California Medical Facility (CMF) in Vacaville, CA, the summer of 1980, and the topic was conflict management. Part of an external degree program in Criminal Justice, offered by California State University, I was the junior member of a three-instructor team, but the only staff member present for all sessions. Attendees were Correctional Officers (fighting the "guard" label), local California Highway Patrol (quite serious), and CMF psychiatric staff (crazy, but in a good way).
Before and after class, I'd approach Chris, Charlie's shrink, and pepper him with questions about Manson. Chris told stories, and I was riveted. I learned that Charlie's job was to sweep out the institution's chapel! Picturing Manson in church on the end of a broom gave me mental images of his spontaneous combustion.
For political junkies, Charlie had a role to play in the national elections of 1980. The class was aware that Manson had a ring to place on one of three pegs and that, in his mind, his selection would determine the next President of the United States: Carter, Reagan, or the independent, Anderson. Student interest rose to a fever pitch, but their disappointment was palpable when Chris reported that Charlie had postponed his decision until after the end of the class. My guess was that several students wanted to know who to vote for.
My curiosity was blunted when Chris put everything in perspective. He said, "I appreciate your interest, young man, but the CMF is the repository of the most unstable inmates in the California State Prison System and, in this environment, Charlie is average." Chris proceeded to share stories to convince me of his assertion.
My summer in Vacaville was a wonderful start for my nearly four-decade career spent training others. And the food at the now-closed Nut Tree, a famous landmark, was the perfect end for each teaching day.
I have only two missed opportunities since 1979. First, was the loss of my role as part of a teaching team for a class of inmates at Folsom Prison, to be held the year after CMF. The professor, Larry, about 5'7" and 150 pounds, had recruited two of us to assist. I was an ex-collegiate shot putter and my counterpart, Kerry, weighed 300 pounds and was a Kendo expert (Japanese stick fighting). It was clear we were involved for more than our instructional skills. I learned the nuances of prison subcultures, the harsh details of the California no-hostage policy, and the health benefits of a clip-on tie. All classes were cancelled, though, when an inmate stabbed a staffer with a very unhygienic, concealed blade.
The second lost opportunity was with an organization being "stood up" in Colorado Springs. I had delivered a conflict session at Ft. Carson, and my performance had caught the attention of someone in this fledgling organization. Our schedules did not match up and, by the time there was flexibility, their workload had exploded. The potential customer was the US Anti-Doping Agency (USADA); the organization that eventually brought down Lance Armstrong, the cycling champion.
USADA would have been a very special audience to me. In the early 1970's, I was, pound-for-pound, one of the best non-steroidal shot putters around. This isn't saying much, as I believe I was one of only a few non-steroidal shot putters around. It would have provided closure to speak to USADA, as a presenter who walked away from the dreams of his youth because he refused to "juice." The residual imprint for me has been to watch sporting events wondering which combatant has the best chemist.
I've most enjoyed working with Native American groups (Lummi Tribe, Bellingham WA; Chippewa in Belcourt ND; Navajo in Shiprock NM). It has also been very rewarding to work with NASA (Kennedy Space Center FL). In hindsight, both NASA engineers and Native Americans had calm temperaments and function somewhat as families.
Missing out on teaching felons and anti-doping wizards is a regret, but not spending time with the fun-loving psychiatrists would have been a huge loss. They provided an early lesson in life: humor can be the best protection around tough characters and dismal situations. Training on the topic of conflict for decades, I remain upbeat. I guess it could be said that Manson's psychiatrists helped me more than I helped them.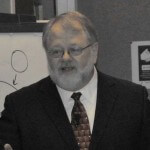 [To contact Michael, email info@feltg.com ]