By Dan Gephart, July 18, 2022
Folks, it ain't over yet.  Forget the crowds of unmasked frolickers you've seen on your summer adventures or the lack of above-the-fold headlines about death rates or hospitalizations. COVID is still very real. And there's a chance we are in for some hard times ahead. How hard those times will be, though, is still not certain.
The BA.5, the most dominant variation of omicron, has residents across Europe and China bracing for a widespread wave and potential lockdowns. Here in the United States, however, we don't really know what we're dealing with. Some far-reaching areas of the web will have you believe the BA.5 variant is more contagious than strep throat at a high school party. But ask others about BA.5 and they might think you're talking about a new boy band.
Since most people take COVID tests at home and others don't test at all, the numbers being reported each day could be woefully underestimated. Or not. The mixture of conflicting information and COVID fatigue makes it hard to get an accurate sense of the situation – and to get people to care about it.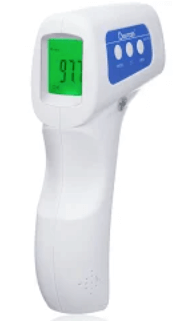 Regardless of its level of transmissibility, the BA.5 variant is poised to hamper efforts at bringing employees back to physical offices, endanger those who already work in those offices, and diminish agency productivity. Serious repercussions of BA.5 could happen in the next couple weeks. Or picture this: A COVID wave running through your agency as you and your colleagues are trying to put a wrap on the fiscal year. What can you do?
First, take care of yourself. Your best tools are still to avoid crowds, mask up when necessary, and get vaccinated.
As for your agency, you may decide to screen employees for COVID. Some agencies have temperature screening plans in place. As the EEOC notes in its guidance, measuring an employee's body temperature is a medical examination, which is not permissible under the Rehabilitation Act, with a few exceptions. Because "the CDC and state/local health authorities have acknowledged community spread of COVID-19 and issued attendant precautions, employers may measure employees' body temperature."
But temperature screens are not that useful. An ongoing UK study found fewer than one-third of the people who self-reported COVID symptoms included fever among them.
Requiring employees to take a COVID test before they return to the workplace is an option, although this is also tricky. The EEOC updated its guidance on COVID tests just this month. Like temperature screens, COVID tests are considered a medical examination, yet they can be used in certain situations.
The EEOC's guidance:
A COVID-19 viral test is a medical examination within the meaning of the ADA. Therefore, if an employer implements screening protocols that include COVID-19 viral testing, the ADA requires that any mandatory medical test of employees be "job-related and consistent with business necessity." Employer use of a COVID-19 viral test to screen employees who are or will be in the workplace will meet the "business necessity" standard when it is consistent with guidance from Centers for Disease Control and Prevention (CDC), Food and Drug Administration (FDA), and/or state/local public health authorities that is current at the time of testing. Be aware that CDC and other public health authorities periodically update and revise their recommendations about COVID-19 testing, and FDA may revise its guidance or emergency use authorizations, based on new information and changing conditions.
When assessing whether you meet the "business necessity standard" to administer COVID tests, consider the following:
The level of community transmission.
The vaccination status of employees.
The degree to which breakthrough infections are possible for employees who are up to date on vaccinations.
The ease of transmissibility of the current variants.
The possible severity of illness from the current variant.
How much contact employees have with each other in the workplace.
Potential impact on operations if an employee enters the workplace with COVID.
That's a lot of information. If you want to keep your employees healthy and productive, keep an eye on guidance from the CDC and EEOC. That's what we're doing at FELTG. Every session we offer provides the most up-to-date information available. These upcoming events can help make your return-to-workplace transitions smoother: