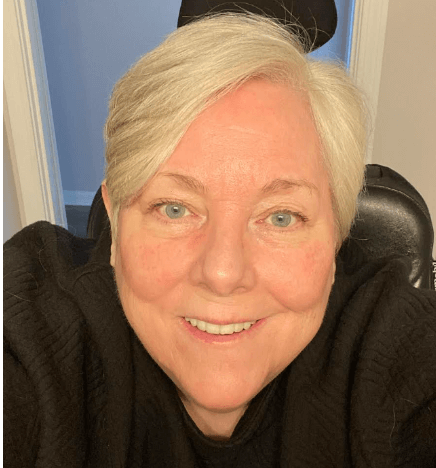 By Dan Gephart, September 26, 2022
When Christine Griffin (photo, right) started her tenure as a commissioner at the Equal Employment Opportunity Commission in 2005, she had a long list of things she wanted to work on. Despite her previous work with the Boston Disability Law Center, the Federal employment of people with disabilities was not at the top of that list.
That quickly changed.
"After learning early on that people with disabilities, and more specifically, targeted disabilities were not represented in the Federal workforce in any meaningful numbers, I decided that should be my focus," Griffin said. "I always believed that government should live up to the ideals that it was telling everyone else to live up to."
During her time at EEOC, Griffin and a team of attorneys that included Steve Zanowic and Jo Linda Johnson, developed the LEAD Initiative (Leadership for Employment of Americans with Disabilities) with two goals:
Increase awareness of the issue.
Increase the number of people with targeted disabilities working for the Federal government.
LEAD laid the groundwork, and numbers have steadily risen. The overall participation rate of individuals with targeted disabilities increased from 1.05 percent in 2003 to 1.80 percent in 2019. Meanwhile, 12 of 28 independent agencies, 11 out of 17 cabinet departments, and 34 out of 98 subcomponents of cabinet departments are meeting the 2 percent goal. In 2016, only 10 independent agencies and subcomponents reached that goal.
Griffin took that work to the Office of Personnel Management five years later when she became the agency's Deputy Director. Her most memorable moment, she said, was sitting next to President Obama the day he signed Executive Order 13548, aimed at increasing the employment of individuals with disabilities.
"I think it has taken a long time," Griffin said, "but the work we did at EEOC to create awareness coupled with the Executive Order from President Obama made Federal agencies more accountable. What is measured is treasured and having someone at the highest level ask for those measurements through EEOC and OPM makes a difference."
At OPM, Griffin's team created the first government-wide Diversity and Inclusion Work Group that led to the development of the first government-wide diversity and inclusion strategic plan. And there was another first. Griffin and then EEOC attorney Veronica Villalobos set up OPM's Diversity and Inclusion Office at OPM. [Editor's note: Another member of that team was J. Bruce Stewart, who will be presenting The Power of an Inclusive Mentality on November 8.]
Griffin is currently senior executive search consultant at Bender Consulting Services, Inc.
DG: What impact has the pandemic had on reasonable accommodation in the workplace?
CG: The most beneficial impact that the pandemic had was to prove to employers that employees can work from home and be productive. With the amazing technology we have access to, there are very few jobs that can't be done remotely. I think that came as a shock to many who always thought working from home was a boondoggle. I believe that this will prove to continue to have a significant impact on the reasonable accommodation requests to work from home for people with disabilities. This request will be difficult for employers to deny going forward and hopefully difficult for judges to uphold those reasonable accommodation denials, since even they learned how to work remotely.
DG: Why is it important to revisit existing reasonable accommodations — and how often should that be done?
CG: It is important to revisit reasonable accommodations because of the rapid advances in technology that allow more people to enter and remain in the workforce. I can't think of one disability that would prevent someone from becoming employed. We don't need our limbs and senses for most jobs and if we think differently, that is usually a plus for employers. I think an annual review of accommodations would be useful for the employer and employees alike. Just an annual check in with an employee to see how the accommodation is working and if there is something that could be changed, tweaked, etc., to make the employee's and the employer's experience better.
DG: What should agencies be doing (or doing better) when recruiting employees with disabilities?
CG: The first thing agencies must do is establish a plan to increase the hiring of people with disabilities that is endorsed at the highest level. Schedule A makes it so easy for Federal agencies to hire people with disabilities without going through a lengthy competitive process. When I was at OPM, we developed the Shared List – a list of people with disabilities who were Schedule A eligible and ready to go to work. This list was populated by Bender Consulting, who found individuals with disabilities with the skills requested by the CHCOs. Agencies had access to the list and could search for the person with the skills they needed. OPM stopped funding that list, and Federal agency personnel are still calling and asking where it is. For now, agencies can contract with Joyce Bender, CEO of Bender Consulting, to help them find the candidates with the skills they need. Bender has been working with agencies for more than 20 years to help them recruit and hire individuals with disabilities.
DG: On the flip side, individuals with targeted disabilities are leaving the government at twice the rate as those without disabilities. Where do you think agencies are failing?
CG: I think some Federal agencies have failed to create the inclusiveness necessary to keep any employees who bring diversity to the workplace. People leave a workplace when they don't feel valued, and that includes employees with disabilities. We used to say that they will hire you because you're different (check off a box) and get rid of you for not being the same. I also think that people with disabilities in the Federal government don't enjoy the same opportunities for advancement. If they can seek that advancement elsewhere, if they feel more valued elsewhere, they will leave.
[Editor's note: Register for Reasonable Accommodation: Meeting Post-pandemic Challenges in Your Agency on November 17, starting at 1 pm ET.] Gephart@FELTG.com