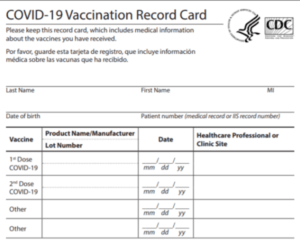 By Deborah Hopkins, September 14, 2021
Stories about falsified vaccination cards are now peppering my newsfeed, including government seizure of fake vaccine cards at the border, and highlights of people who got caught attempting to travel to Hawaii with fake vaccination cards in attempt to and avoid mandatory quarantine. The woman whose card said she received a "Maderna" vaccine and the father who presented with vaccine cards for his 5- and 6-year-old children – far too young to be eligible for the vaccine – are the most memorable.
FELTG readers are likely aware of President Biden's Executive Order 14043 last week requiring all Federal employees to be vaccinated against COVID-19. (FELTG instructor Katie Atkinson and I recently discussed the new vaccine requirement on an episode of the FedUpward podcast.)
This new EO reflects the administration's increased push to get all eligible Americans vaccinated, and on Monday the White House set the vaccination deadline as November 22. The EO follows a July requirement that employees attest to their vaccination status, otherwise be mandated to weekly testing, limits on official travel, wearing face masks, and physically distancing, plus following other protocols the CDC recommends for unvaccinated people in the workplace.
New! On September 16, 2021, updated guidance was issued:
Q: Must agencies require documentation from employees to prove vaccination status?
A: Yes, agencies must require documentation from employees to prove vaccination, even if an employee has previously attested to their vaccination status. Employees may provide a copy of the record of immunization from a health care provider or pharmacy, a copy of the COVID-19 Vaccination Record Card, a copy of medical records documenting the vaccination, a copy of immunization records from a public health or state immunization information system, or a copy of any other official documentation containing required data points. The data that must be on any official documentation are the type of vaccine administered, date(s) of administration, and the name of the health care professional(s) or clinic site(s) administering the vaccine(s). Employees must certify under penalty of perjury that the documentation they are submitting is true and correct.
Employees may provide a digital copy of such records, including, for example, a digital photograph, scanned image, or PDF of such a record that clearly and legibly displays the information outlined above. In requesting this information, agencies should comply with any applicable Federal laws, including requirements under the Privacy Act and Rehabilitation Act of 1973.
Q: Are there penalties for providing false information on the vaccination attestation form?
A: Federal employees who make a false statement on the Certification of Vaccination form could be subject to an adverse personnel action, up to and including removal from their position. It is also a Federal crime (18 U.S.C. § 1001) for anyone to provide false information on the form. Falsification could also affect continuing eligibility for access to classified information or for employment in a national security position under applicable adjudicative guidelines.
The Task Force will be releasing additional guidance on vaccination requirements later this week, and we'll be sure to keep you informed. In addition, we'll be dealing with this topic and more in the October 26 webinar Post-Pandemic Accountability: Handling Employee Performance and Misconduct in a COVID-19 World. That webinar is the final session of the three-part series Navigating the Return to the Federal Workplace, which begins October 12 and includes discussion on EEO issues related to vaccines, reasonable accommodation, and more. Hopkins@FELTG.com