By Deborah Hopkins, October 14, 2020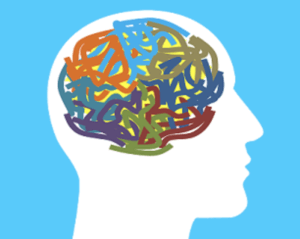 We've all learned by now that this COVID-19 thing is intense. Not just the virus, but the effects it has on everyday life. From kids being at home to masks being required in public places, from social isolation to the loss of loved ones, every single American has been affected in some way.
And it's taking a toll.
In a July 2020 poll from the Kaiser Family Foundation, 53% of U.S. adults said their mental health was harmed because of the worry and stress they've experienced over COVID-19 – and that was THREE MONTHS AGO. I can't imagine what the percentage is today. There have been also been increased reports of substance abuse suicidal ideation among Americans since the onset of the pandemic.
Last week, while he himself was a COVID-19 patient at Walter Reed, President Trump issued an Executive Order On Saving Lives Through Increased Support For Mental- and Behavioral-Health Needs in an attempt to prevent suicides, drug-related deaths, and poor behavioral-health outcomes, as a result of the COVID-19 pandemic. This is a topic FELTG has been covering since the start of the pandemic, and will again discuss during the December 10 virtual training program Managing Employees With Mental Health Challenges During the COVID-19 Pandemic.
I spoke with Shana Palmieri, FELTG's resident behavioral health instructor, after this EO was issued, about how agencies can best handle some of the related mental health challenges that come along with the pandemic.
DH: What are some of the tells or signs that might indicate an employee is struggling with depression, anxiety, or other mental health challenges? 
SP: The increase in stress and drastic life changes as a result of the pandemic are significant risk factors for increasing rates of depression, anxiety, suicidal ideation and substance use disorders. Key symptoms that may indicate an individual is suffering from a worsening mental health condition include low mood, emotional withdrawal, withdrawal/socially isolating (beyond what is required by CDC guidelines); excessive tearfulness; difficulty with focus and concentration; sleep disturbance/insomnia; anger/moodiness/irritability; forgetfulness; guilt; panic attacks; racing or unwanted thoughts; feelings/expressing pending doom; and excessive worry or fear.
High-risk symptoms that indicate the need for immediate crisis intervention include suicidal thoughts, plans or behaviors; psychotic symptoms (a loss of touch with reality evidenced by delusions, hallucinations or extreme paranoia);  change in mental status evidenced by severe confusion; evidence of a significant increase in alcohol or drug use; and extreme agitation, aggression or expression of thoughts/intent to harm others. 
DH: What are some practical suggestions for agencies to help employees who are dealing with mental health issues?
SP: In order to effectively assist employees dealing with high levels of stress or mental health issues, agencies should engage in a number of proactive steps to keep employees healthy, provide assistance to those who need mental health treatment, and be prepared to intervene should a mental health crisis present itself.
Tip #1. Ensure ease of access to behavioral health treatment. Proactively provide employees with information on how to access treatment such as EAP, behavioral health treatment through their health insurance provider, or through digital telehealth solutions.
Tip #2: Proactively provide key messaging to the agency workforce about:
How the agency is responding and able to provide assistance
The impact of the pandemic on mental health and substance abuse
How employees can access assistance from the agency, resources available, and information for the suicide crisis hotline. (National Suicide Prevention Hotline: 800-273-8255; Veterans Crisis Line: 1-800-273-8255; Veterans Text Line: 838255)
Tip #3: Ensure your agency has a policy and procedure developed for managing a mental health crisis in the workplace. It is crucial to have a plan in place that identifies protocols on the management of a suicidal employee, violent threats/behavior, and risk of or on-site overdose. Ensure supervisors and employees receive training on the protocols for a behavioral health crisis in the workplace.
Tip #4: Provide mental health training to supervisors, managers, leadership and HR staff.  This training should include:
An overview of mental health symptoms and conditions and how they can impact employee work performance
Implementation of appropriate workplace accommodations
How to appropriately – and safely – intervene in a behavioral health crisis
Tip #5: Ensure the agency has a culture that promotes mental health wellness.  Create a culture of physical and emotional wellness within the agency.  Ensure a culture that eliminates stigma and promotes mental, emotional and physical wellness through:
Improved access to care
Training of supervisors, managers, and leadership
Communication strategies from leadership to agency workforce encouraging employees to access resources and engage in strategies and behaviors that promote overall wellness
DH: Do you have any advice for supervisors who suspect an employee might be suicidal but are afraid to ask? 
SP: Remember to take all concerns and statements about suicide seriously.  Your actions can save a life!  Below are some key tips and recommendations if you are worried about an employee being suicidal:
Suicide Warning Signs
Making comments or direct statements about suicide
Seeking out lethal means or a lethal plan to kill self
Expressing a preoccupation with death
Expressing a lack of hope and despair about the future
Self-loathing, self-hatred
Saying goodbye and getting affairs in order, unexpectedly
Self-destructive behavior
Withdrawing socially from others (a change from the individual's normal personality)
How to Talk with Someone About Suicide
Have an open conversation and state your concern for the individual
Stay open and non-judgmental
Actively listen and express concern
Offer support and guide the individual on how to receive help
Access mental health crisis services if necessary
Helpful Things You Can Say
"I have been feeling concerned about you lately."
"I wanted to check in with you because you haven't seemed like yourself lately"
"You are not alone, I/we are here to support you"
"It may not seem like it is this moment, but the way you are feeling can change"
"I may not be able to understand the exact way you are feeling, but I am here for you.  How can I help?
As you can tell, these issues can quickly become serious. FELTG provides training for agency supervisors and employees on how to safely, and legally, handle behavioral health issues in the workplace. Please let us know if there's anything we can help you with. Hopkins@FELTG.com