By Dan Gephart, May 16, 2023
Record scratch.
Freeze frame.
"Yep, that's me. You're probably wondering how I got here."
I often think of this movie-cliche-turned-meme when I read or hear about EEO reprisal. I picture a supervisor, sitting in an EEOC-ordered training, explaining how an employee made claims about discrimination that had no basis, and were eventually dismissed. However, in a huff of frustration or anger, that supervisor said or did something rash that cost his agency and landed him in the training.
The EEOC defines reprisal, aka retaliation, as "treating employees badly because they complained about discrimination on the job, filed a discrimination charge or complaint, or participated in any manner in an employment discrimination proceeding."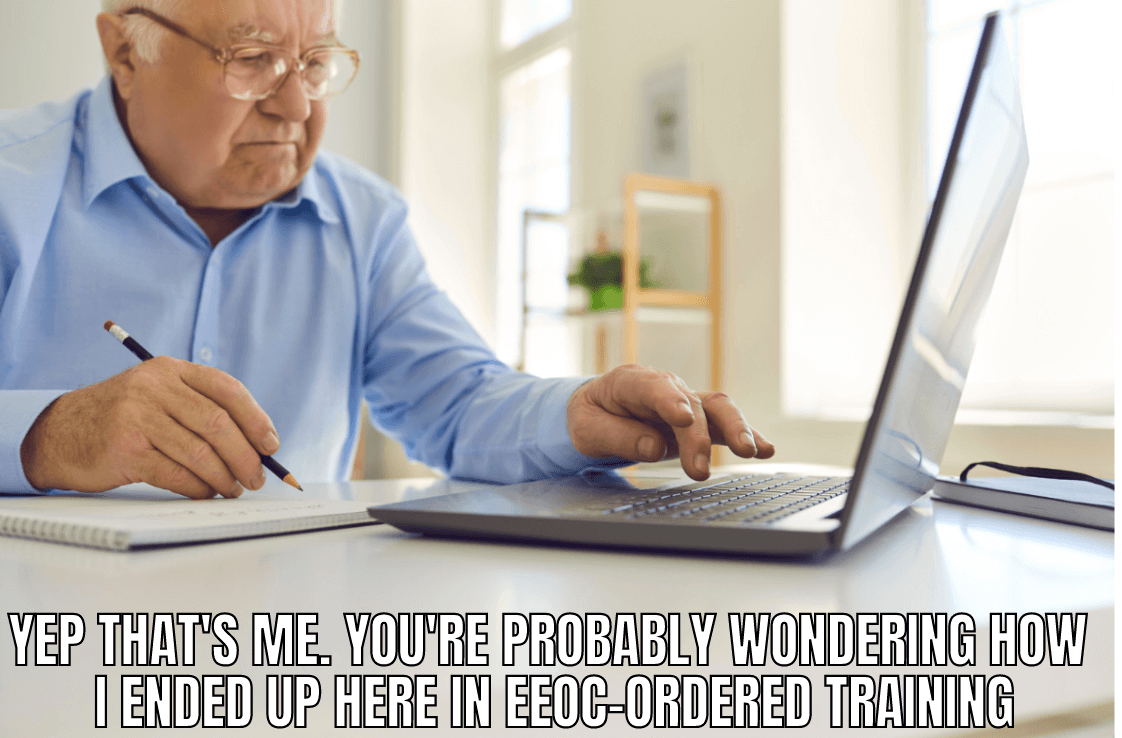 It's human nature. A knee-jerk reaction. Someone has accused you either directly or indirectly of a violation of the law and, in the moment, you say or do something that is influenced by your emotional state. It's no wonder reprisal claims make up such a big bulk of EEOC's case load. And what we've seen trip up many supervisors is that you don't have to be directly accused of discrimination for reprisal to be found. The employee doesn't even have to file a complaint before the reprisal claim arises. Remember that definition in the previous paragraph and consider the key words: "or participated in any manner in an employment discrimination proceeding."
The complainant in Green v. Secretary of Navy, EEOC Appeal No. 01964701 (1997) alleged he was subjected to discrimination in retaliation for prior EEO activity, naming the following incidents:
He was forced to assume duties and responsibilities without commensurate pay and adequate personnel.
He was forced to work in an unsafe environment.
The agency failed to remit documentation to him.
He was forced to work under "management personnel who commit waste, fraud and abuse."
The agency threatened to eliminate his position.
The agency dismissed this portion of the appellant's complaint for failure to state a claim. Basically, the agency's response was: What EEO activity? Before this all went down, the employee had notified the agency of his intention to testify on behalf of other employees alleging discrimination. But he never actually testified.
Doesn't matter, the EEOC ruled: Simply notifying the agency of his intention to provide testimony on behalf of other employees alleging discrimination was participation in protected EEO activity.
On a related note, a seminal case in this area is the Supreme Court decision Thompson v. Northern American Stainless, LP, 131 S. Ct. (2011). In Thompson, it wasn't the employee who participated in an EEO activity – but the employee's fiancée. Previous courts, including the District Court in this case,  had ruled that retaliation was limited to "persons who had personally engaged in protected activity by opposing a practice, making a charge, or assisting or participating in an investigation."
The Supreme Court decided differently: "We think it obvious that a reasonable worker might be dissuaded from engaging in protected activity if she knew that her fiancé would be fired."
So, add close relationship/association with individuals who file complaints as close enough to constitute protected activity. Just how close should that association be? Well, we don't really know that. In Thompson, the Supreme Court declined to "identify a fixed class of relationships for which third-party reprisals are unlawful."
What other activities are protected? Here are some activities that are a little more obvious, yet still too-often overlooked:
Contacting an EEO counselor.
Filing a formal EEO complaint, even if it's a frivolous complaint.
Testifying at an investigation or hearing.
Representing a complainant.
Providing documents to a complainant.
Requesting a reasonable accommodation.
Look at all the different activities that are protected. It's no wonder there are so many successful reprisal claims. If you want to avoid the being a meme, think before you talk, only take actions based on legitimate business reasons, and, oh yes, join Bob Woods this Thursday (May 18) at 1 pm ET for Avoid the Pitfalls of EEO Reprisal. (Register now.) Gephart@FELTG.com