By Dan Gephart, July 21, 2021
Residents from our cozy colonial-era town of Haddonfield, NJ, returned in droves to this year's July 4 parade. (Last year's parade was canceled due to COVID.) The streets were packed with enthusiastic and smiling (no masks!) residents, who watched as the Shriners drove circles in their tiny cars, a group of Mummers strutted, and the town's oldest resident (102 years young) waved from a convertible.
The Stars and Stripes was ubiquitous. Parade-watchers held high the tiny flags handed out by the local Boy Scout troop, while larger American flags fluttered from every light pole in town.
As we walked home after the parade, I noticed our town was full of flags, and not all of them Old Glory. Flag makers reported an increase in sales during the pandemic, and we were seeing the results of it. I'm guessing it had something to do with people spending more time stuck at home.
The Rainbow Pride flag was the one we saw most. We saw a couple of Thin Blue Line flags. A Black Lives Matter flag hung from a porch. Another bright flag summoned us to celebrate summer, while another shouted "Freedom!" The one that made us laugh was giant black flag with white lower-cased letters spelling "freak."
And on the corner a couple of blocks off the main street was a house flying the Gadsden flag. That's the one depicting a rattlesnake with the words "Don't Tread on Me" over a yellow background. If you're in the Federal EEO community, you may know the Gadsden flag from the EEOC's decision in Complainant v. US Postal Service, EEOC Appeal No. 0120141334 (June 20, 2014). Or, you probably know it from the clarification the EEOC sent out after its ruling:
The EEOC noted that while the Gadsden Flag originated in a non-racial context, it has since been "interpreted to convey racially-tinged messages in some contexts." The EEOC cited its use by persons associated with white-supremacist groups who used the flag to drape the bodies of two police officers they had just murdered, and its display at a Connecticut fire house that was met with protests by African-American firefighters, ultimately resulting in the flag's removal. The EEOC underscored the fact that it did not find that the Gadsden Flag in fact is a racist symbol. Instead, the EEOC found only that the complaint met the legal standard to state a claim under Title VII, and therefore should have been investigated by the USPS rather than dismissed.
With the rise of white supremacist and anti-Semitic groups, flags have taken on meanings that may not be that obvious. The Gadsden flag isn't the only one that's been appropriated by hate groups.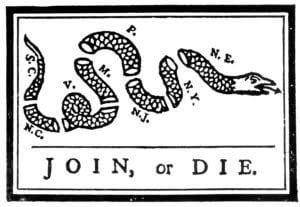 To the left is a flag based on a Benjamin Franklin cartoon published in 1754, urging the eight colonies (all New England is represented as one) to unite.
A few years ago, the Philadelphia 76ers embraced the Franklin cartoon for their NBA playoff logo, a flag of which can also be seen flying from a house on my block these days.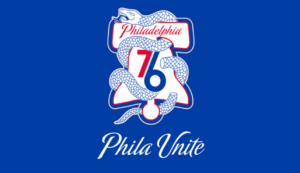 [Sidenote to that neighbor: Are you lazy or what? That Game 7 loss to the Atlanta Hawks was nearly a month ago. Why must you keep reminding me of that disappointment?]
Meanwhile, white supremacist groups have seized on the cut snake logo, as seen by the poster that promoted the deadly "Unite the Right" rally in Charlottesville. Instead of uniting colonies, the poster proposes uniting hate groups.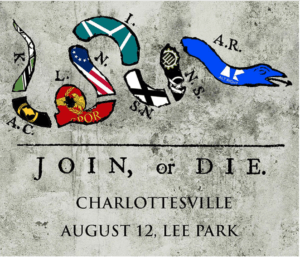 During the video replays of the Insurrection at the Capitol, I saw numerous flags and symbols that I did not recognize, but later read were used routinely by white supremacist groups. Undoubtedly, those flags and symbols would create a hostile work environment if displayed in an office.
You don't have to be a vexillologist (flag expert) to ensure a discrimination-free environment, but you do need to know the elements of a hostile workplace, which are:
1)    The conduct is unwelcome. That conduct could be words, jokes, touching or objects and pictures displayed.
2)    The conduct is based on a protected EEO category: race, color, national origin, religion, gender, disability, age, genetic information, or reprisal.
3)    The conduct is severe and/or pervasive.
If a flag heralded by a white supremacist group is displayed in your workplace, I'm pretty sure it's going to check off all the boxes. (For a thoughtful legal analysis of a more challenging potentially hostile environment case, read FELTG President Deborah Hopkins' Does Saying 'All Lives Matter' Create a Hostile Work Environment?)
The next step is up to you: It's your responsibility to protect employees from harassing conduct.  Take action. Immediately. An example of what not to do can be found in Complainant v. United States Postal Service (Southeast Area), EEOC Appeal No. 0120132144 (Nov. 1, 2013). In that case, the EEOC reversed the agency's final order and remanded the matter to the agency because it found that complainant had established that he was subjected to unlawful harassment based on race and the agency was liable for harassment.
In this case, the offending objects were t-shirts emblazoned with the Confederate flag worn by two white clerks. Initially, the AJ, while finding discrimination, did not find agency liability. The Commission saw it differently.
The shirts were worn about a dozen times over several months starting in August 2010. The agency took no action against the shirt-wearers until prompted to do so by a union grievance in May 2011, when one of the clerks was sent home to change. In fact, at one point in April 2011, the clerk was told there was "nothing wrong" with his shirt.
The agency's supposed corrective step was a stand-up talk about work attire. During that talk, however, employees were never instructed not to wear or displays images of the Confederate flag.
When symbols of hate take hold in the federal workplace, there's no room for mixed messages. Gephart@FELTG.com