By Deborah Hopkins, February 19, 2020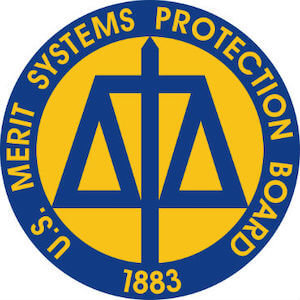 A couple of weeks ago, MSPB issued its Annual Report for FY 2019. This report is similar to a "State of the MSPB" document, which highlights the priorities, strategies, and numbers from the previous fiscal year. Because we have no sitting members of the MSPB for the first time in history – and it's been almost a year since the Board has been vacant – the report is more abbreviated than it has been in years past. But there's still some interesting information we at FELTG want to share with you, in case you haven't had a chance to look at the report yet.
As of the end of FY 2019, MSPB had 2,378 Petitions for Review (PFRs) pending at HQ. That was the end of September, of course. As of last week, MSPB's website showed more than 2,600 pending PFRs. The backlog has been growing for more than three years and will continue to grow until the Senate votes to confirm the nominees, who have been patiently waiting – two of the three for nearly two years.
The Administrative Judges (AJs) in the regional and field offices continue to hold hearings and review cases. Last FY, they issued 5,112 decisions. Of those, 4,893 were initial appeals, 190 were addendum cases, and 29 were stay requests. Let's look at a further breakdown of these numbers:
2,092 of the AJ decisions involved adverse actions.
388 cases were probationer removals. (As most FELTG readers know, probationers have limited Board appeal rights. If you didn't know that, attend MSPB Law Week in March and we'll tell you all about it.)
113 cases involved performance-related removals or demotions.
490 were Individual Right of Action appeals – with most of those, if not all, undoubtedly being appeals of alleged whistleblower reprisal.
61 appeals were related to suitability.
USERRA and VEOA appeals combined for 213 appeals.
Another interesting statistic involves settlement. In years past, around 60 percent of MSPB appeals government-wide were settled before they ever went to hearing. Of course, some agencies tend to settle more often, and others less frequently, but overall the majority of cases still settled. I often get asked what that looks like, and why agencies settle cases after the disciplinary action has already been decided. Well, it costs the government time and money to litigate a case in front of an MSPB AJ, and if the agency can offer the employee something (usually a sum of money) in order to resolve the appeal today, then it often will.
This decision to settle usually comes from someone further up the chain of command, and in many cases includes the employee's agreement that they won't apply for another job at the agency again. Whether you like it or not, that's how the system works.
Well, last year we had the lowest number of post-appeal settlements I can ever recall seeing: only 47 percent of cases settled after the appeal was filed to MSPB. A likely reason for this is Executive Order 13839, which went into effect in 2018 and removed the agency's authority to take discipline out of an employee's official record. A clean record is often the determining factor in getting an employee to agree to withdraw an appeal and go away, so it's not surprising to see this number decrease so significantly.
Of the 915 appeals that went to hearing (in other words, they weren't settled, withdrawn, dismissed, or otherwise disposed of) and were adjudicated on the merits, agency actions were upheld 85% of the time — a 2% increase from FY2018. Only 2% of agency actions were mitigated and about 12% were overturned.
So, who went to hearing the most? By the numbers, the VA far and away adjudicated the most MSPB appeals (161), more than doubling the number of its closest followers, Army and DHS. Not far off the podium were DOD, USPS, Navy, and Air Force, followed by  DoJ, USDA and Treasury. Considering the size of the top three agencies, this is not entirely surprising as one could assume the number of hearings is related to the size of the workforce. However, several decent-sized Departments only adjudicated appeals in the single or low-double digits:
Department of Health and Human Services: 15 appeals; 79,000 employees
Department of Transportation: 15 appeals, 58,000 employees
Department of Commerce: 14 appeals; 46,000 employees
Department of the Interior: 12 appeals; 70,000 employees
Department of Labor: 4 appeals; 17,000 employees
Department of Energy: 3 appeals; 14,000 civilian employees
Department of Housing and Urban Development: 3 appeals; 8,000 employees
The fact that some agencies adjudicated so few appeals is not necessarily directly related to the number of personnel actions taken. A number of Departments employ groups of people who do not fall under MSPB jurisdiction – for example, Department of Energy employs more than 100,000 contractors who do not have MSPB appeal rights. Some agencies have very high settlement rates, and other agencies see very few employees file an appeal of a removal. That said, it is true that some agencies just don't take action against most employees who engage in misconduct or perform at an unacceptable level. I share these numbers not to point fingers, because these numbers standing alone don't tell us the complete story, but as a way of starting the conversation about accountability in the federal government.
There's lots more in the report including a statement on the lack of a quorum (or any members at all) and summaries of important Federal Circuit decisions. Check it out here for a full read. Hopkins@FELTG.com