When:
September 19, 2022 – September 23, 2022
all-day
America/New York Timezone
2022-09-19T00:00:00-04:00
2022-09-24T00:00:00-04:00
Download Individual Registration Form
Course Description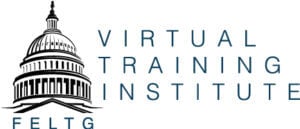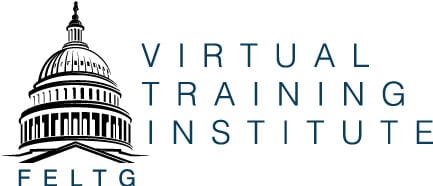 An increase in reasonable accommodations requests based on religion and disability.  Pandemic-related civil rights crises. Increased discussion of diversity and inclusion. Way too many harassment complaints. Talk of changes to the EEO process. If you've thought about registering for FELTG's EEOC Law Week in the past, now is the time to act on it. This weeklong virtual training is updated for 2022, including the latest on COVID-related challenges and workplace harassment.
This in-depth training overs the gamut of EEO issues, and provides usable guidance for all practitioners, regardless of experience level. FELTG's expert speakers, drawing on years of experience from all sides of the litigation table, deliver a fast-paced week of strategies, principles, and authorities relative to the major aspects of the field of discrimination law in the federal government.
And it provides the required material for EEO counselors and investigators to receive refresher training hours
The program runs 12:30 – 4:30 pm eastern each day, with a 30-minute break midway.

3.5 per day.
Download Individual Registration Form
Who Should Attend
Attorneys; EEO managers and directors; EEO specialists; EEO counselors and investigators; reasonable accommodation coordinators; federal supervisors and managers who have complicated EEO issues in the workplace; Labor and Employee Relations specialists; union representatives.
Instructors
TBD
Daily Agenda
Monday, September 19
Basic EEOC: Nuts & Bolts: Course topics: Statutory authority and jurisdiction of EEOC; an overview of the theories of discrimination; overview of the EEO process; amended and consolidated complaints; timeliness issues in the wake of the Supreme Court decisions in Morgan and Ledbetter.
Tuesday, September 20
Contractor Complaints; Intentional Discrimination and Reprisal Cases: Course topics: The agency's role and obligations when a contractor files an EEO complaint; intentional discrimination analysis and cases; selection and promotion cases; reprisal analysis and case updates.
Wednesday, September 21
Accommodating Individuals with Disabilities: Course topics: The Rehabilitation Act, the Americans with Disabilities Act Amendments Act, defining individual with a disability, understanding major life activities and substantial limitations; identifying essential job functions; the legal requirements for the interactive process; types of reasonable accommodation; the latest on the Genetic Information Nondiscrimination Act (GINA) and relevant regulations.
Thursday, September 22
Current Trends in EEO Law: A Focus on Harassment: Course topics: The very latest on what's happening in EEO; hostile environment harassment; gender stereotyping; same-sex harassment; recent court decisions on sexual orientation and transgender discrimination including the SCOTUS decision Bostock v. Clayton County; non-EEO harassment; settling EEO cases.
Friday, September 23
Mixed Cases; Damages & Remedies: Course topics: Understanding the world of mixed cases; overview of equitable remedies: back pay, front pay, reinstatement; non-pecuniary and pecuniary damages; past and future damages; damages offsets; the duty to mitigate damages; collateral sources and pre-existing conditions; multiple causations of harm; the eggshell complainant.
Pricing
Most people attend the full training week, but you may opt out of any days you don't plan to attend.
Early Bird Tuition (register by September 5):
5 days = $1495
4 days = $1225
3 days = $935
2 days = $700
1 day = $370
Standard Tuition (register September 6-23):
5 days = $1575
4 days = $1305
3 days = $995
2 days = $730
1 day = $400
Event FAQs
Can I attend Virtual Training from my government computer?

FELTG uses Zoom for this Virtual Training Institute event. Many government computers and systems allow Zoom access. If for some reason your firewall will not allow access, you're welcome to use your personal email address to register, and to attend the sessions from your personal device.

Can I earn CLE credits for this class?

CLE applications are the responsibility of each attendee; FELTG does not apply for the credits on behalf of attendees.  If you are seeking CLE credit, attendees may use the materials provided by FELTG in submission to your state bar. Attendees may also request a certificate of completion which will contain the number of training hours attended.

Can I share my access link with co-workers?

No. Registration for this event is per individual, and access links may not be shared. Each link may only be used by one person.

Can I register a teleworker?

This event is individual registration, so the cost is the same whether the person is teleworking or in an agency facility.

How do I receive a group rate discount?

Group rates are available for agencies registering 10 or more individuals for the full event. Group discounts are available through September 5.
Cancellation and No-show Policy for Registered Participants: Cancellations made after the cancel date on the registration form will not be refunded or given credit toward future courses. Pre-paid training using the "Pay Now" option will not be refunded or given credit toward future courses. No-shows will not be refunded or given credit toward future courses.