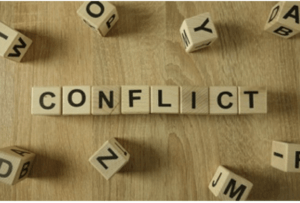 By Deborah Hopkins, September 14, 2021
Here's the scenario: A complainant files multiple EEO complaints including complaints against an attorney in the agency's Office of General Counsel and the agency's EEO Director. The complainant requests the attorney and the EEO Director to recuse themselves from the case. The GC and EEO Director happen to be the employees who handle most EEO matters and litigation for the agency in this particular region.
Because of her experience, the attorney would like to be involved in defending the agency against the complaints rather than create a firewall and pass this case off to a less-experienced attorney. And the EEO Director doesn't want to recuse because he believes there is no merit to the EEO complaint.
What should the agency do?
Ideally, the agency should have a conflict policy in place and an agreement with another region or even another agency to step in for the investigation and defense of complaints in situations like this.  The EEOC issued a report last year with guidance on these conflict policies.
If the agency doesn't have a conflict policy in place now, the below case discusses the conflict issue and should encourage the agency to address this as soon as possible: Katharine B. v. USPS, EEOC App. No. 0120170444 (Dec. 7, 2018).
"In Monroig, the Commission held that permitting the Deputy General Counsel, one of the responding management officials, to attend the hearing and simultaneously act as agency representative would create an inherent conflict of interest and tarnish other witnesses' testimony.
EEO Management Directive 110 (EEO MD-110) (Aug. 5, 2015) requires that there be distance between the fact-finding and defensive functions of the agency in order to enhance the credibility of the EEO office and the integrity of the EEO complaints process. EEO MD-110, Chapter 1, at § IV (Aug. 5, 2015). The Commission ruled that even if the Deputy General Counsel had testified before all other witnesses at the hearing, her presence would discourage other employees from testifying freely at the hearing.
The Commission noted that the Agency was well represented at the hearing despite the Deputy General Counsel's absence.
Accordingly, we find that a conflict of interest existed in the Agency's representation at [*13] the hearing and that Complainant is entitled to a new hearing, in which S1 may not be involved as an Agency representative. See Rabinowitz v. U.S. Postal Serv., EEOC Request No. 05930348 (Sept. 23, 1993) (officials involved in discrimination may not be involved in processing the complaint)." [bold added]
Bottom line: Take conflict allegations seriously. Find a way to recuse counsel or EEO officials who may have conflicts of interest. Better yet, get ahead of these situations now by putting together a conflict policy, as recommended by the EEOC. It may not be something that arises often but being prepared for a conflict will benefit the agency in the long run. Hopkins@FELTG.com