By Dan Gephart, September 16, 2020
Let Your Light Shine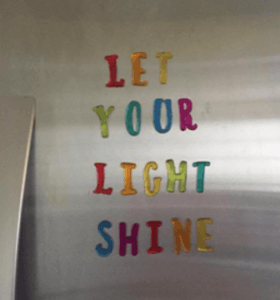 As the pandemic reached its fourth month, a friend from Ohio sent us a package — sticky letters spelling out the aforementioned message that would beam hope and inspiration, once affixed to our fridge.
Even before the pandemic, my wife and I worked from home and the refrigerator was the place in our tiny two-story house where we regularly crossed paths. As the pandemic continued to wage war with my anxiety, the fridge visits have become more frequent, and the aspirational message has provided affirmation for several weeks since.
Oh, who am I kidding? Let Your Light Shine lasted all of three days. Tops. Yeah, yeah, yeah, it was a moving message and all that. My wife and I are creative types — two nerds who have spent our working lives writing and editing and a good portion of our free time competing ferociously against each other in Scrabble. Each trip to the fridge meant another chance to let our scrambled lights shine.
Heighten Sully Riot
So it has become a regular competition between us to rearrange the letters into a new message. The goofier, the better. Our only rule: They have to be real words.  Our anagramming competition was on my mind as I listened to FELTG Instructor Anthony Marchese, Ph.D., teach several communication-related virtual training classes and webinars over the past few weeks. For many of you, it's that time of year when you're providing performance reviews for your charges. Dr. Marchese's training on performance feedback, communication, and leading virtually is always timely, but particularly so in the late Summer/early Fall. If you missed out on Dr. Marchese's recent classes, you can register now for just-announced virtual training The Performance Equation: Providing Feedback That Makes a Difference, which will be held on Wednesday, Oct. 28 from 12:30-4 pm ET. (Dr. Marchese also teaches many of our Leadership and Supervisory courses, all of which can be taught virtually.)
Managers and advisors often want to make sure that everyone gets the same message. And that's important. But not everybody responds to the same communication style. Someone may hear Let Your Light Shine, while another employee will hear There Lying Loutish.
Dr. Marchese says that a "one-size-fits-all communication minimizes the likelihood of meaningful engagement and incites unnecessary conflict." He suggests creating your own "rules for engagement" by exploring your employees' behavioral workstyles. This is particularly important when discussing feedback.
There are typically four languages spoken at work – Analysis, Achievement, Amicable and Artistic. Understanding how your employees individually fit into these groupings will help you to determine the best ways to individually communicate to each. Some may be energized by a detailed plan. Others may find such plans alienating. Spontaneity and enthusiasm will motivate some but alienate others.
Oy Let Lies Turn High
In his recent webinar Leading Virtually, Dr. Marchese defined these different languages and provided clear guidance for how to identify an employee's language and how to best communicate to that individual. Do you need to know your and your employees' Work Languages in order to be successful at communicating in the workplace? No, you don't. But it is a tool. And it's an effective tool. But there are others. Nothing can truly replace getting to know your employees' individual styles and knowing how best to convey important information.
Hero Tilly He Guns It
As a manager, you want to create an experience that allows each member to offer his/her/their best, and then meld their contributions into something that no individual could have done alone. The performance review is that time of the year where you can take stock with each employee about his/her/their contributions and set a path forward for the next year.
But the performance review is not a stand-alone event. It should serve as a culmination of a year's worth of work and feedback. The last thing you want to see from an employee in a performance review is shock. If that happens, then you have failed. Either you've failed to provide feedback throughout the year, or quite possibly, you thought you were providing feedback, but you didn't communicate it in a way that your employee understood. To repeat those illustrious and stirring words I recently saw spread out across a stainless-steel backdrop: Heighten Your Still. Gephart@FELTG.com